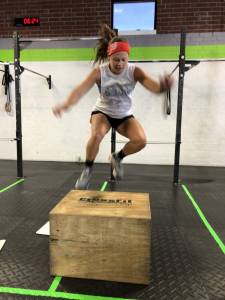 Hey guys,
      It's Sunday, and that means it's time for another Weekly Rundown here at CrossFit Simplicity! Last week was pretty epic and we had an amazing Bring A Friend Day Saturday…definitely great to have those back in the rotation so be sure to look for one in the month of August as well. This week is looking just as stacked as last week with some really amazing workouts and even a special event for you guys on Thursday. Be sure to try to get in here as much as possible and let that consistency lead to the results you're looking for! Now let's have a look at the week below…
Operation Underground Railroad: Rise Up for Children Fundraiser workout will be Thursday July 30th during all classes! This is a fundraiser work out to raise money for the O.U.R. Organization working to rescue children from human trafficking. Each year in the United States 800,000 children go missing. We want to do our small part to aid in rescuing these children and putting an end to human trafficking!

 

join us all day Thursday for an awesome workout: "Get Fit, Save Kids."
Bring A Friend Day: Thank you so much to everyone who came out to have a great class with us Saturday. Also thank you to those of you that brought a friend. We had a great time seeing those new faces in our community! Also special shout out to DJ-LA for the wonderful job she does setting the mood for us at these events! Be on the lookout for our next one in August!
Monday: Monday, Monday, Monday! Arguably the most important workout day of the week as this one will set the tone for how you show up moving forward. We have a really great piece to start off the week that's going to follow a traditional 21-15-9 rep scheme. Our movements today will include chest-to-bar pull-ups, handstand push-ups, and deadlifts! we are looking to knock this out in around 10 minutes so the intensity will be pretty hard in the duration pretty short. Try to stay focused on getting through that first round of 21s as smooth as possible without blowing out and you'll be good to ramp up over the next two rounds as the reps begin to decrease. The gymnastics in this workout can get a little fatiguing on the shoulders so keep that in mind as you're determining how to break things up. Easy day!
Tuesday: We have an awesome little work out for you guys today that's going to be designed as a chipper. Remember this means that once you finish one movement you are totally done with that movement and can advance to the next. This work out well also follow that descending rep scheme which will help you out mentally and physically as you progress. We'll start out with a big set of double unders to warm up those shoulders and get your blood really pumping and your breath moving! after that we will hop on the rower or bike to knock out some calories and then advance to box jumps before we finally finish things off with some sit-ups this is a great well-rounded peace with not a lot of competition between movement so you should be able to really push yourself and stay moving consistently from movement to movement. If you feel good really cut loose and see how good you can do on this one! We want you guys coming in under 15 minutes today.
Wednesday: It's your lucky day…at least I hear seven is a lucky number. I'm not really sure if there's any validity behind lucky number seven but if so you guys are going to have a great day! We have a really cool workout with a neat layout for you.  This one is going to be three identical mini workouts each consisting of three rounds within themselves. The rounds will include seven deadlifts, seven toes-to-bar, and seven push presses.  After the first and second of these little three round workouts we will have a short row.  Remember each little three round piece is identical and will be very short. So it will be important to maintain quick transitions from bar to bar and really stay moving on this one. I would suggest rowing at a pace that is strong but one that also allows you to get right onto the bar when you are finished. We will have a lot of fun with this one today!
Thursday: Exciting day!  this is our Rise Up for Children fundraiser workout and it actually falls perfectly on our cardiac output day! This is a fundraising and awareness building workout put on by Operation Underground Railroad and we are so honored to take part and help them in rescuing children from human trafficking situations. This will be a fun workout and we'll also have a link available for you guys if you would like to directly donate to their cause! Come in today ready to work and have some fun!
Friday: This is going to be an interesting piece and a great one to finish out the work week for you guys. Like many of the others we've had this week this one has a really cool layout. It will consist of three 5 minute AMRAPs each followed by a five minute rest. Each one of these AMRAPs will begin with a 400m run to buy-in and then will transition to rounds of front squats and burpee box jump overs. There's a slight catch though. Each round the weight of the front squat will increase yet the reps will decrease. Meaning that the rounds will get shorter but not necessarily any easier. Remember on these it's important to trust your fitness and know that you will recover sufficiently during the five minute rest interval so you can really push the pace during the five minutes of work!
Saturday: Super excited about this workout we have for you guys today. This one is going to be fun and challenging with a good mixture of aerobic and weightlifting movements. you'll have some options today which will also allow you to kind of customize this workout and make it your own. your options will be running, rowing, and biking and your weightlifting will be back squats…from the rack! We hope you'll all be able to make it out because these Saturday partner workouts are always the best!
      Well folks, that's all we have for you guys this week but we hope it'll be enough to keep you engaged and motivated! It feels like things are getting back to normal around here and we can't wait to finish this summer strong. Things have been going very well in class and you guys have all been putting forth a tremendous amount of effort and encouragement for one another. Let's keep that vibe going strong as we wrap up this month. Thank you again to everyone who came out to our Bring A Friend Day event and to Leslie for her amazing DJ skills. We will have another one of these before you know it! Thanks for tuning in with us on this beautiful Sunday here in North Carolina and we can't wait to see you all in class!
~Daniel