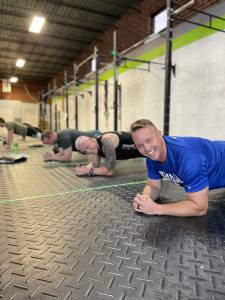 Hey guys,
       Do you trust me? I can show you the world. Shinning, shimmering splendid. A whole new world. A new fantastic point of view…well…I can at least show you what's in store this week at CFS in this edition of the CrossFit Simplicity Weekly Rundown! First things first, if you haven't guessed our theme by now you had a horrible childhood. (Just saying) Obviously Aladdin is our theme this week and this is our second week break from a strength cycle and our next strength cycle will be starting up October 4th so get excited about that! We have some great workouts to hold you guys over until our next cycle and give our bodies little time to relax and recover before we start lifting heavy again. We also have the start of a new month this week which is always an exciting time to think about setting some new goals. Now let's check out a couple of announcements and then dive in!
Fall Back Into Fitness: We had an absolutely amazing time with you guys Saturday celebrating fall, friendships, and our fitness with a great high energy workout and some good food and fellowship! I just wanna take one minute to shout out a few special people. Thank you so much Coach Amanda for running an amazing class and giving us a great work out. Thank you also to DJ-LA for keeping the energy so high! This might've been the best mix we've ever had at a CrossFit event! No joke! And lastly special thanks to Brian DeHart for bringing a grill and cooking up some amazing food! Oh yea, and thanks to YOU all for coming out!
Strength Cycle: Our next strength cycle will begin Monday, October 4th. We will focus more on overhead lifts and squats to help better our Olympic lifting. You'll see much more front squatting while transitioning into the push press and push jerk along with snatch balances, snatch presses, and much more. This cycle will last six weeks and we are expecting to see just as many PR's, if not more, than the last cycle!
Monday: We are kicking off Monday with a lot of work. Starting out with "Aladdin." This is going to be a two-part work out like we've seen many times before. We will start out with a 21-15-9 of alternating dumbbell snatches, burpees over the dumbbell, and pull-ups. After a five minute rest we will smash all of this together to hit a chipper of alternating dumbbell snatches, burpees over the dumbbell, and pull-ups. We want moderate intensity and consistent pacing today. Both workouts have equal reps but the first workout is broken up into rounds with a decreasing rep scheme. We really want you guys to aim for a smooth pace and see if you can get similar times on both workouts. Quick warning, there are a lot of pull-ups today so make sure you scale these back if necessary to keep the intensity high, get the proper stimulus, and also avoid any sort of overuse injury. After this we are going to have a little bit of accessory pressing work which should be a great way to cap off class.
Tuesday: For the record I did NOT have a crush on Jasmine growing up. Just in case that rumor is floating around. (also don't worry, my wife never reads these…for real, it's sad) But speaking of crush…We have a tough one for you guys today with "Jasmine!" This is going to be a descending rep workout of thrusters and calories on the rower. Stimulus is going to be moderate intensity but we do want to see it increase as the reps decrease across the workout. This one definitely has an "Open" type feel to it. You guys will need to be really focused on breathing and staying steady in this workout so that you don't get overwhelmed by either movement. The thruster is light today but you guys want to make sure that you select a weight that will allow you complete moderate sized sets of 10 to 15 reps at a time. Also focus on long strong pulls on the rower and don't be overwhelmed by the aerobic fatigue you will feel as you start the row coming off the thrusters. Stay tough! After this we will work on some skills and drills with kipping handstand push-ups!
Wednesday: "Phenomenal cosmic powers, itty-bitty living space!" That's right, "Genie" today! Who do you think you did it better: Robin Williams or Will Smith? Anyway, today's workout will be 100 power cleans for time. The kicker is that every minute on the minute, even starting at zero, you'll have to stop and perform 12 air squats. Remember these need to be good squats where we are going full depth and reaching full extension at the top. The weight is lighter today and the intensity is moderate. You need to aim to strategize a specific number of reps that you would like to complete each minute after completing the squats. Attempting to go max reps each minute will begin to put you in a deficit going into the next round and is more likely to result in a larger degradation of lifting form so be careful. After this we will have some goblet squats as accessory work to round out the day.
Thursday: It's Thursday so you know we have a partner work out on deck for you guys! "Arabian Nights" is going to be a partner workout consisting of push-ups, synchronized alternating single dumbbell step ups, double unders, and kettle bell swings. You will split up the push-ups and kettlebell swings however you would like but obviously the single dumbbell step ups will be done synchronized and the double unders do not need to be synchronized but will be completed at the same time. This is going to be a moderate intensity piece and you guys need to try to find a steady and consistent pace. Communication it's going to be key as you grind through the shoulder fatigue and deep leg burn! For the most part you're going to want to break up the push-ups into short fast sets as you alternate between partners. There's no group standard for the dumbbell today but you must keep one hand in contact with a dumbbell at all times. Also remember that the dumbbell cannot be assisted or propped on the leg when stepping up. Both men and women will use a 20 inch box height for this movement today. Have fun with this one! Like most of our days this week we will have a little bit of accessory work at the end of class. Today will be some Arnold presses.
Friday: it's Friday and it's finally time for the villain. "Jafar" is definitely going to be a bit of a wicked workout as you work through 50 wallballs, 50 GHD sit-ups, 50 wallballs, and then a 1 mile run! This is definitely going to be another mental check work out where you guys will look to hold a smooth consistent pace from start to finish. The higher reps can make it miserable for pacing. A good goal would be to keep the wallballs and GHD reps under 2 1/2 minutes to complete. You're going to have to keep your legs monitored during this workout since we have two big sets of wallballs and a long run. The run is kind of the icing on the cake and will be the real grind of the workout. Use the first few hundred meters to get your legs loose and shake out the pump. Once you're settled in we want you guys to adjust to a moderate pace where you'll have just enough in the tank for final 200 m sprint to the finish. Get gritty!
Saturday: Saturdays at Simplicity always mean a partner workout! And hopefully "Abu" will be as fun as his character! This is going to be a cool little piece where you and your partner alternate back-and-forth between calories on the rower and power cleans and then calories on the rower and power snatches. However we will have two sets of this and your second set of power cleans and power snatches will decrease in reps but increase in weight. The stimulus today is going to be moderate to high intensity while adjusting on the fly with different Olympic lifts. Grab a partner and see how well you can move the heavy weights!
       That's all we've got for this magical edition of the CrossFit Simplicity Weekly Rundown. Hopefully this week it won't be quite as hot as Arabia and we'll get to really throw down on some great workouts! We have a lot of really cool pieces this week and we hope you guys are excited to have one more week to get in some good conditioning, do a little skill work, and get really for our next strength cycle! If you're bored out of your gourd today then go back and watch the old and new Aladdin and we'll discuss which one is better at the whiteboard! Now get plenty of rest, recovery, and relaxation so we can hit it hard this week. See you all in class!
~Daniel