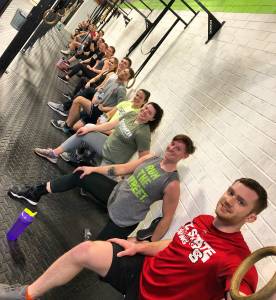 Hey guys,
         Time March(es) on here at CrossFit Simplicity and it's time for another CFS Weekly Rundown! Too punny? regardless, we are excited about starting another week here at CrossFit simplicity in another month in 2020. We have so much to look forward to this month and so many exciting events taking place at CFS. Be sure to read over the announcements so that you can save these dates and stay in the loop of what's happening in our community. The workouts planned for this week should be really enjoyable for you guys with lots of variety and a few good challenges thrown in there to keep things interesting! Now let's dive into this Rundown and see what's in store…
Community Night Out! Our community event this month will be a Farkle tournament right here at the gym this Friday night, the 6th, at 7 PM! Farkle is a really simple and fun dice game that's perfect for sitting around a table socializing! If you've never heard of it before your best bet is just to give it a Google but we will have all the information you need at each table when you arrive. We will provide some game night snacks and you can feel free to bring any sort of drinks you might like. ($5 buy-in so we'll have cash prizes for 1st, 2nd, 3rd!)
Breast cancer Workout! We are cohosting an event with Deirdre Lea and DJ-LA to raise money for the Pink Ribbon Fund on Saturday, March 14th at 10am! This is going to be a fun workout and a great way to support a cause that affects so many of us. The cost for the event will be $10 per person and all proceeds will go to the Pink Ribbon Fund. Invite some friends and come out for a great workout!
Bring A friend Day! Our next BAFD Will be March 28 at 9am! This is an amazing chance to invite some of your friends and family to check out CrossFit simplicity and see just what we love about this amazing community! Of course DJ LA will be on site with her awesome set up!
Monday: As I have mentioned to some of you guys in class, one of the goals of this current cycle is to work on building capacity in your gymnastic movements. Meaning your pull-ups, push-ups, handstand push-ups, toes to bar, etc.  basically we want to improve your ability to do these movements and increase the size of the sets you are able to do unbroken. Today is going to be a great chance to work on just that. This workout is full of handstand push-ups, pull-ups, and double unders and it should be a good one! This one will follow one of our more traditional rep schemes of 21–15–9 But the double unders will be tripled…So 63, 45, 27. If these are good movements for you then really try to knock out some big sets but make sure you don't go to failure too early on…especially on the handstand push-ups as these are very difficult to recover from once your muscles get blown up. If you need to make sure you just get in some short sets and some short rest. We are also going to offer a strict option for the Rx+ today!
Tuesday: Partner workout! In the middle of the week? Yes in the middle of the week! This one is going to be pretty fast and intense so don't expect to get too much rest even though this is technically a partner workout. While you guys will be completing this workout together, you'll actually both be working at the same time yet on alternate movements. Your task today is to complete 200 wallballs as a pair. The catch is that while one person is working for a minute completing as many wallballs as possible the other partner will have to work simultaneously during that minute to complete two rope climbs. We could also sub these out for some pulling variations. Obviously the rope climb minute is a little less taxing on the heart and lungs but because you'll be pushing hard when it's your turn to do wallballs the rope climbs will not be much recovery at all. have fun with this one and really try to get as much work done as possible during your minute of wallballs and this workout will be over before you know it! Good stuff!
Wednesday: "Chaos!" This is actually a retest for us today and a variation of a games workout that we have done before. For reference we will be checking our times on August 30, 2018. This one certainly have some challenging movements but the reps are relatively low. This is a chipper style workout meaning that once you complete one movement you are done with that movement and can move onto the next. However, you cannot move onto the next movement until you have completed all of the reps for the previous movement. there are a few unilateral movements today including a single arm overhead dumbbell squat and a single leg/pistol squat. These can be quite difficult depending on your mobility so be open to some scaling ideas from your coaches.  at the end of this work out we have some pretty high box jumps. 42 inches for the guys and 36 for the ladies. This can be pretty intimidating if you aren't used to high box jumps so be sure to take your time and be mindful of where your feet are in space during your jump. Even if you don't want to go with the prescribed height make sure it's a couple steps above what you normally use.
Thursday: Deadlift Day! This is week three of our deadlift cycle and the weights are finally starting to get a little more challenging. We will start out today with two sets of two at 85% of your one rep max and then continue our speed sets after this. However, the speed sets will drop to only six sets of three rather than eight and we will use 70% of your one rep max this week for these! have fun on these lifting days and really focus on your form here and keeping a proper position throughout the pull. If we continue to stick to the program and put in the work this deadlift cycle will pay off with some big PR's at the end!
Friday: This one is a bit different today but will definitely be interesting! Basically we will have 15 snatches (1/2 Isabell) and 15 clean and jerks (1/2 Grace). But before we get to these you'll have to complete 100ft double front rack KB carry before each movement…a heavy one! (70/53). The front rack carry is going to tax your shoulders and your core a little bit but the majority of your work here today will be spent on the snatches in the clean and jerks so try to find a smooth methodical pace and get some work done. As always, when you get those last five or 10 reps really push it and see what you can do. The workout finishes off with clean and jerks which should be a movement most of you guys are comfortable doing at a higher pace. Easy day!
*TONIGHT is our community event for March! Come out to our fun Farkle tournament at 7 PM at the gym!
Saturday: We have a really cool partner workout lined up for you guys today that I think you'll enjoy! This is a fun piece with a little something for everyone that will keep you guys moving. This one is a great mixture of front squats, toes to bar, lateral bar burpees, and rowing. School work out because it's broken into three separate sets of three rounds each broken up by an aerobic option of your choice. Also the front squat weight will increase each round in the Rx+ option (which some of you guys will definitely want to go for!) Overall this is just a great workout so get in here!
         OK guys that's all for the Weekly Rundown today. Hope everyone had an amazing weekend and is feeling ready to tackle some great workouts this week. we also have some really cool community events coming up this month so be sure to take a second look at the announcements above and mark those dates in your calendar's! It's awesome to push alongside each other every day in class but it's really fun to come together outside of a workout setting and have some fun just hanging out and getting to know each other! Now let's make a March an amazing month and get in here and get to work. See you all in class!
~Daniel