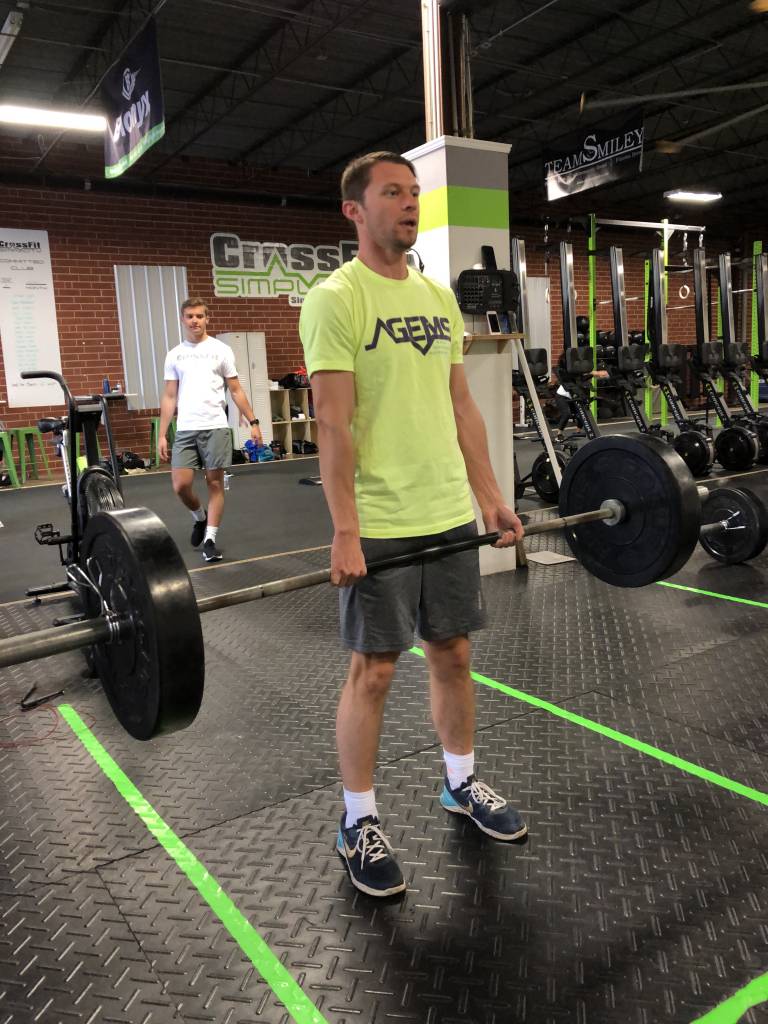 Hey guys,
Great job in March! So much to look back on and be proud of! We saw a ton of improvement from you guys, lots of PRs, and some amazing Open performances! I think April is going to be just as good! …and this week will be extra special! We are starting our assessment week! This week we will be focusing on testing your fitness across many different domains to see where we all stand and what we need to work on moving forward! It's very important that you try to make as many of these days as possible so that we get some great baseline numbers in our system that we can retest in the future! This is going to be a great week and a great start to the Spring season here at Simplicity! Check out the announcements below and then see what we have in store for assessment week!
Stay in the Loop! You don't want to miss out on everything that's going on this Spring and Summer at Simplicity. So make sure you have an updated email address in our system, subscribe to our SMS text messaging, and if you are on Facebook search for our "CFS Friends" Facebook group and request an add. We will be using these three forms of communication to let you guys know about all the fun and events!
Spartan Race THIS Sat/Sun in Charlotte! Some of our CFS members are participating in the spartan race this weekend in Charlotte. More details can be found by checking out the member posts in our private Facebook group mentioned above.
Our next Bring a Friend Day is April 13th so mark your calendar's and tell your friends! As the weather gets nicer these will only get better! Of course DJ-LA will be there!
The results from the 2019 CrossFit Simplicity Open are finalized! We will be announcing these and handing out some awards next Saturday, April 6th!
As mentioned above this is assessment week! It's really important to try to get in the gym as much as possible this week so we can see where we stand and what we need to work on! Don't put too much pressure on yourself on any of these tests fitness. Just come in and do your best and we will go from there!
Monday: Back Squat! This is a personal favorite for many of us and a great way to start off the week! Again, don't put too much pressure on yourself but if you are feeling good really go for it today! Remember to stay as upright as possible and keep your chest up and some good speed coming out of the bottom of your squat. Like anything we do, form over weight should be the goal of the day. Keep your squats below parallel and keep the bar moving! After this we will break things down for a little bit of post-workout or, if you would like we, have an optional flow workout. Depending on how long it takes us to back squat… And we don't want to time cap the squats… This optional flow workout may be done on your own outside of class. It's not for time and is simply a chance to get moving. 
Tuesday: 5K Tuesday! This will be assessment number 2! I know a lot of us dread running (me included) but it's still a very valuable training tool and we want to be well rounded. So let's get in here and give this one our best effort! After this we'll actually hit assessment 3 today. This will be a max effort set of ring muscle-ups or max rep pull-ups. This is one unbroken set without letting go of the bar/rings. Good day! 
Wednesday: Weightlifting Wednesday! It's time to test our one rep max snatch as assessment number 4! This is a lift you guys have been really working hard on so go for it today and be confident. You've been putting in lots of technique work lately so expect a PR but also don't be bummed if it doesn't happen. This is technical lift and some days you're just not feeling it. Regardless of how it goes we will be flowing right into assessment number 5: a max effort set of wallballs. This will rest you physically as well as mentally! A good amount of grit can get you quite a few extra reps! Stay tough! (This will be unbroken…meaning you must constantly be moving and doing wallballs. No pause during any part of the movement.)
Thursday: No assessment today…just a great little 11min AMRAP with some biking/rowing and some mod/heavy clean and jerks. This one is good! You'll have to pace this out…but at a higher pace. It's only 11 minutes long so you want a strong and steady pace that hopefully builds in intensity in the last min or two. This one is solid!
Friday: Big day today! Two assessments and a little metcon at the end to wrap things up. The first two assessments won't take too much out of you so we'll throw in a "Helen" variation that we've done in the past. The first assessment today will be a max effort (time) PVC overhead squat hold. This will test out our mobility. If you lose position the test is over. The second will be a max effort set of unbroken kipping handstand push-ups it push-ups. Should be a great start to the weekend! 
Saturday: The last of the assessments: one rep max clean and jerk! This one will be a blast! Let's get in here and have some typical Simplicity Saturday fun with a whole lot of weightlifting! And don't worry…if you're the conditioning type we'll have a little rowing/wallball metcon thrown in there as well! Good stuff!
This week is going to be an amazing start to April, to Spring Simplicity, and to another great cycle of growth and increased performance! Remember to make sure your contact information is up-to-date as we enter into this new season and be sure to get in the gym as much as possible this week so that we can get some good baseline numbers as we move forward! Hope everyone had a great weekend and we will see you all in class!
~Daniel