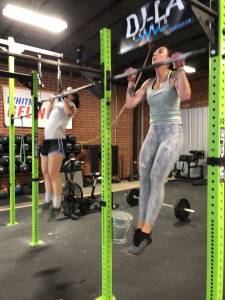 Hey guys,
       The Rundown is ready to roll! We have a great week ahead and it's the start of a new month this week as well. Love it when that happens! October also marks the start of the next CrossFit Games Open. Since since the CrossFit Games is shifting to a new schedule you may notice that this is actually the second open of the year. Moving forward they will only be one each year in October. Because of the shift and the fact that we already had one open season this year I want to do things a little bit more low-key. Obviously we still encourage you guys to sign up for the open house it is an awesome way to test and evaluate your fitness from year to year and it's a lot of fun! That you will not be doing an inner Jim/intramural style open but we will still be programming the workouts it's Friday and meeting each Saturday morning to hit them in a more competition style environment which should be a blast! Now, without further ado let's head on down and check out a couple quick announcements and then see what's in store for your workouts this week!
Bring A Friend Day was amazing as always! Another huge shout out to DJ-LA for providing the best beats and to everyone who came out and introduced us to some new friends!
New black on black CrossFit Simplicity Tees will be in soon for $20! Stay reppin!
As soon as the shirts come in we will begin work on a new sweatshirt for this winter!
Push/Pull for Pancreatic Cancer will be hosted here at CrossFit Simplicity on November 23rd! This was a great time last year and we raised lots of money and awareness so be sure to get signed up! (See the flyer at the gym!)
Monday: Starting off the week with some weightlifting! I always feel like it's nice to ease into the week without too much crazy cardio… But that's just me! If you are looking for a little conditioning on Monday then be sure to scroll down and check out the running and burpee pull-up workout in the next level programming! (Careful though because this will be Thursday's class workout) The weightlifting piece today will focus on our upper body and pressing strength. We'll be starting out with push presses in a wave style reps scheme that's working us towards a one rep max for the day. Obviously we would like to put up a heavy single but don't let the desire for a new one rep max keep you from going heavy and having some challenging sets on the higher rep sets in the wave. After this we have some nice pushing and pulling single arm dumbbell accessory work that you want to get in as well. Great way to start the week!
Tuesday: We are breaking out the rope climbs again this week! Remember that if this is a movement that you don't like or just feels unnecessary then this is a great day to substitute for one of your pull-up variations and get in some great work! If you do like the rope climbs then make sure to wear your pants and/or your long socks and be ready to roll! Today's workout will be two short identical AMRAPs of double kettlebell thrusters and rope climbs. The reps and rounds are very short so try to keep the pace high for the full 5 minutes. A great goal here is to work hard on the first AMRAP and then do whatever you can to match or beat your score on the second 5 minute AMRAP! Do Work!
Wednesday: "Possible EMOM?" is here to brighten your hump day and get you through the week…right?! Not sure if you guys are tired of these yet but I personally love the challenge…and they scare me a little! I did think this was a great one when we tested it though. This is also going to be a very easy one to scale back a little bit and still make really challenging and rewarding. This is one of our longer ones at 21 minutes. There are three different movements, each with their own minute. Row calories, toes-to-bar, and then power cleans. This week we'll actually offer an Rx and an Rx+ variation and I really think some of you all will be able to hit the Rx variation and hold the reps! So go for it! This one does get a little bit rough on the grip so I would suggest breaking up the toes-to-bar at least once and pulling quick singles on the power cleans. Have fun with this one!
Thursday: Today will be the next level piece that I mentioned on Monday's portion of the rundown. This one will be running and burpee pull-ups so it definitely plays to the body weight ninjas of the gym. If this is in your wheelhouse then crush it! If this isn't in your wheelhouse then it's probably just what you need so try to come in with a good attitude and work on getting better! The running distance and the number of burpee pull-ups decreases each round which should really help you keep the pace high. Try to sprint the last round if possible and see what you can do! Remember that it's generally a good idea to pace the burpee pull-ups to something methodical and steady. These could even allow you a slight opportunity to catch your breath from the run!
Friday: Fun little "Bench Mark" Friday workout coming to us from the CrossFit Games! This one is a short-ish three round workout with deadlifts (mod weight), overhead squats (light weight), and double unders. This one will have to be broken up some as the reps are on the higher side: 15 deadlifts, 35 overhead squats, 90 double unders. I would suggest breaking the deadlifts up at least once and the overhead squats maybe two times or more if needed. The weight on the overhead squat should definitely be scaled to something you can complete in no more than 3 sets and the deadlifts as well. This is a good one that will really have you feeling it in the legs AND the shoulders! Good stuff!
Saturday: Super excited about this one! It's been a long time since we retested a Saturday workout but we are going to today…and this one was GOOD! Remind me to tell the class about the Hodge buddy carry crash that happened racing my team in the last round. Wild! This one is teams of two completing bear complexes, double unders, and then buddy carries! (If the buddy carry isn't something you're comfortable with then we'll swap out for a run!) This is definitely one to get excited about and have some fun with!
      This is obviously another great week at Simplicity! (Is there EVER a bad week? No!) Be sure to get in here and hit all these workouts so that we can start October off the right way and keep working towards those goals! See you all in class….
~Daniel