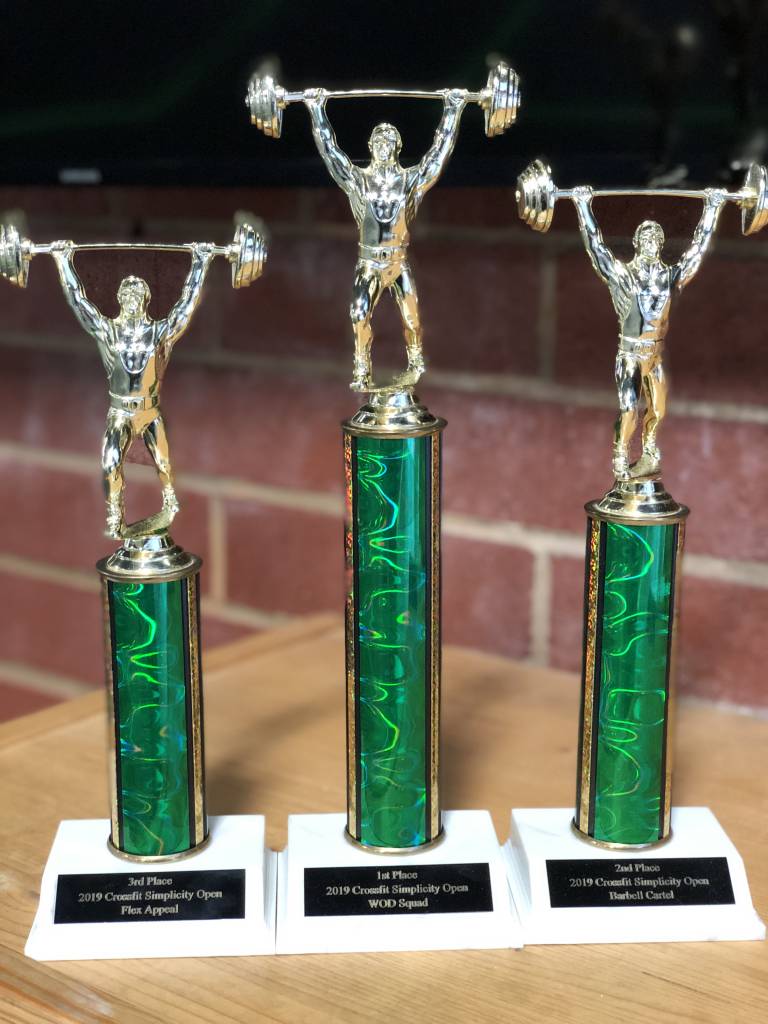 Hey guys,
Are you ready for the scoop this week?! It's definitely going to be a good one! We had a great week last week and got in a ton of good work. If you missed Saturday's class we handed out Open awards so check out the picture above to see how the team standings shook out. Again, great job to everyone who competed and had a lot of fun with us in this year's CrossFit Simplicity open. We have a lot of stuff coming up in the next couple weeks and a lot to look forward too so be sure to check out the announcements below!
This Saturday, May 4th, Lululemon Greensboro will be holding a special event for first responders at Friendly Center. You do not have to be a first responder to attend and many of us form the gym will be heading to the event Saturday morning. If you would like we are carpooling at the gym at 9:20 AM on Saturday morning. Show up and we will pile into cars and head that way. If you are first responder or past or present military you are eligible for a 25% discount all the time at Lululemon! Whether you are a first responder or not this will be a fun event that Leslie will actually be DJ'ing! There will be a work out in the courtyard area led by local CrossFit gym and then some beer and they hang out in the Lululemon friendly Center store. We hope you all can make it!
There will still be a normal class held Saturday morning at 9am at CrossFit Simplicity.
May 27th is Memorial day! That Monday morning we will be holding two heats of "Murph" in honor of all those who have served!
Simplicity Summer Series is August 3rd so get your partner and stay on the lookout for me details!
Monday: Awesome job today! This was a big weightlifting day and you all hit it hard and put up some really good numbers. Be sure to get some good rest tonight and plenty of fluids so that you can be nice and we're covered for tomorrow!
Tuesday: This is a pretty cool day! We are going to be hitting the Rogue Qualifier number 1! This one is an 11 min AMRAP of a 2000m row followed by max reps of handstand push-ups with the remaining time. Because the row is mostly conditioning and the handstand push-ups are primarily a strength movement be sure to push hard on the row and then trust your fitness when it comes time to kick up against the wall. I would suggest breaking up the handstand push-ups early and often to try to reduce the risk of burning out too early. If you have a good capacity for this movement then feel free to go ahead and open up with some big sets but try not to go to failure too early. A traditional push-up will be a great scale for this work out and should allow you to get in some good reps!
Wednesday: we are back with another Rogue Qualifier today! This one is a 9 minute AMRAP but will require some smart pacing. The movement or front squats, bar facing burpees, and shoulder to overhead… In that order. Because of this A great strategy would be to go directly from the shoulder to overhead into the next round of non-front squats. However, I try to be smart here and know yourself because if you don't quite have the capacity for this much on broken volume it can burn you out early and spike your heart rate. Like any work out it's always good to play things a little safe and then push hard from there. After this we will do some farmer carries to finish off the day.
Thursday: Run, Row, Ride, you decide! We have a five round workout today with a two minute rest interval between each one. You will choose between a 500m row, a 400m run, or .7 miles on the bike…this is followed immediately by 100 double unders. You will complete a round, rest two minutes from the time you completed your last round, and then start your next round. We will do this five times. We want the double unders to be something you can complete in 1 to 2 sets so scaling is going to be very important here! Because you have a two minute rest interval try to really push the pace on these rounds. As always, start off with a strong steady pace and see if you can keep your rounds consistent or complete them faster each time.
Friday: guess what… We have another Rogue Qualifier today! This one comes with a 15 minute time cap and a lot of squat snatches! Each round the number of squat snatches will decrease while the weight on the bar increases. These are split up by chest-to-bar pull-ups and box jump overs. You need to be smart on how you break up your squat snatches so that you can save your legs and your shoulders for each consecutive round. This one can get pretty spicy pretty quick so try not to come out of the gate too hot and just have fun with it!
Saturday: We will have a 9am partner workout as usual at CFS. But this is also the day of the First Responders event at Lululemon in Greensboro! They will host a workout in then have some beer and a hang out inside the store at Friendly Center! If you would like to tagalong meet at the gym at 9:20 AM and we will carpool to the event! You don't have to be a first responder to attend!
This is an excellent week we have ahead of us and you guys have already started off things right! Remember that we have our Summer Series partner competition set for August 3rd so get yourself a partner and use this as motivation for your training in the coming months. It's going to be good! See you all in class!
~Daniel