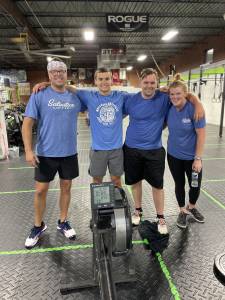 Hey guys,
     It's a bit of a cloudy Sunday here in Burlington NC, but we are all smiles as we crack into this week's CrossFit Simplicity Weekly Rundown! It's a new month and we have an excellent week ahead of us here at the gym with lots of good work on our strength cycle, some great conditioning, and our Murph prep of course. Good Stuff! Thus week's workout theme is all things "Tennessee" which should be cool. Keep in mind that a new monthly challenge will be coming out soon so keep your eyes peeled for that as well. Now let's dive into this week and see what we have in store!
Weightlifting:
Week 6 (May 1st)
Tues: 3×1 Squat Snatch (85-90% of Heavy Single), 3×3 Snatch Grip Deadlifts (100%)
Thurs: 3×1 Power Clean(85-90% of Heavy Single), 3×1 Front Squat (90%)
Fri: 1 Snatch Push Press + 1 Snatch Drop x 5 working sets
**Note that we have multiple days with double lifts so be ready to get to work when you get to class!
Workouts:
We begin with "Murph Prep Mondays." The goal will always be to work towards building capacity and volume for the grueling Hero Workout. We have the first Mayhem Benchmark workout on Tuesday. Combining the classic CrossFit Girl workout Diane with our little twist, we take it a step up with "Diane Bailey," named after our good friend Dan Bailey and world-renowned performance in these movement combos. Wednesday, we have some Assault Bike intervals, and remember, these are some of the most beneficial workouts you will ever get. For Thursday, there is a nice little 4 set triplet of movements that you will cycle through. Then it's time for Friday, and it's an all-out bang with a 2-part workout where you guys will grind through a chipper, rest and sell out on a "Max Effort" row. For Saturday, you will have your hands full for a while with a grueling partner workout. It's going to be good!
     Well, that's all we've got for this week's edition of the CrossFit Simplicity Weekly Rundown! It's looking like it's going to be another awesome week with some really good pieces so get excited. Remember to get in here at consistent as possible so we can get in some good work and see those results! As we get into a new month it's a great chance to set some new short term goals and get after it. Now get plenty of rest, relaxation, and recovery so we can hit it hard this week. See you all in class!
~Daniel