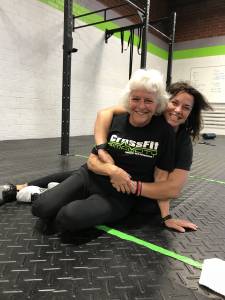 Hey guys,
       I know I say this every Sunday but it is truly a beautiful day here in Burlington North Carolina! First off, happy Mother's Day to all of our amazing CFS moms out there! This is certainly one of the most special holidays of the year and we have a special place in our hearts for mothers here at CrossFit Simplicity. Thank you guys for being strong, loving, and setting great examples for our next generation of CrossFitters! Life gets so busy when kids are thrown in the mix but we understand just how important it is to make time for yourself so that you can blow off a little steam and show your children just how important it is to prioritize your health and take care of yourself. We hope all of you mothers out there have a very special day! We have an awesome week ahead of us here at CrossFit Simplicity with a really cool throwback Andy Griffith theme for you guys. Some of our younger crowd may not be familiar with this TV classic but it is the epitome of classic hometown values. We like to think we know how to value relationships and treat others with respect here at CrossFit Simplicity so we are excited about this theme and the workouts for this week. Let's go ahead and dive in and see what we have in store for you all here at the gym!
Bring A Friend Day: Thank you so much to DJ-LA and our amazing coaches for making Saturday so great. And thanks to all of you guys who came out to celebrate our community at our most recent Bring A Friend Day!
House Tees/Tanks: Great news! We have some new house T-shirts on the way very soon featuring our long awaited and much anticipated return of the military green shirt! We also have our graphics guy working on a summer tank design for you ladies!
Gymnastics Skills Class: Our next free gymnastics workshop will be Sunday, May 16 with our very own coach Stewart! Stewart has so much knowledge and experience in this area and we hope you guys will come out and take it vantage of it from 3 to 5 PM that Sunday.
Memorial Day Murph: We will be holding two heats for Memorial Day Murph on Monday, May 31st. The first heat will be at 7 AM and the second heat will be at 8:30 AM. You're welcome to invite outside guest to this event but there will be a drop-in fee to make sure we offer our members the best value and space available to hit this infamous workout! Be on the lookout for more details and sign-up information to register for your spot!
Monday: Speaking of Murph, it's time for another "Murph Prep Monday!" Today we will be hitting Andy Griffith which will be our weeks name sake and also our memorial day Murph prep workout. Today's workout is going to be tight to fit into a 60 minute class so you guys need to come in ready to rock 'n' roll straight into the warm-up and then go directly into the work out! The total time for this workout is 40 minutes. You will have three different AMRAPs consisting of running and each individual Murph movement. So running and pull ups, running and push-ups, and finally running and air squats. We are going to give you guys two options today. One with a vest and one without. This workout is pretty straightforward and it's going to boil down to just plain old fashion works. You just need to get in here and grind. Try to stay consistent and steady with your pacing and be sure to break up the pull ups and push-ups as needed so you don't go to failure too early. You'll have a slight rest in between each AMRAP but overall this is going to be steady state work for 40 minutes. Easy day!
Tuesday: We are about to nip this workout in the bud… as our friend "Barney Fife" would say! Today will be a really cool layout of assault bike calories, power cleans, and burpee box get overs. It's hard to actually put into words how today is going to run but basically you will have three different workouts that will run back to back. Each "workout" the assault bike calories will decrease as well as the number of rounds and the number of power cleans and burpee box get overs. However, the weight of the power cleans will increase each round! This workout is definitely going to be a grinder as there will be no rest between rounds. Just embrace the suck and keep moving at a steady pace. We want the effort on the assault bike to stay relatively the same across each round. Make sure your effort is such that you can avoid burnout and come off and get directly onto your power cleans. Power clean weight will increase across rounds but we want something that's roughly 55% of your one rep max for the first part, 65 to 70% for the second part, and 75 to 80% for the last part. Think about potentially going unbroken on these power cleans and be sure to practice and use your hook grip! As you guys have seen lately in the programming we will allow you to use hands to get over the box today for the burpee box get overs but the majority of the body must pass over the box. You cannot plant your hands and then swing around the side of the box. Have fun with this one today and get after it!
Wednesday: Weight lifting Wednesday is here for all of your overhead squat enjoyment. But let's be honest, few of us really enjoy the overhead squat. This is definitely one of our more challenging movements and will certainly bring out any glitches we have in our mobility. Do your best today to focus on fixing these issues and getting comfortable in the bottom with that overhead position instead of trying to go to heavy. We will be working up to a moderate/heavy set of three. After this we will be hitting "Otis Campbell." This is going to be a shorter chipper style workout of GHD's, push presses, and handstand push-ups. Lots of overhead and core work today so be sure to break things up accordingly and pace for shoulder burnout! Lots of volume on the GHD sit-up today so be sure to go to abmat sit-ups if necessary. Make sure you pick up push press way that you can do at least 10 times unbroken throughout the workout. Handstand push-ups will be tough but there's only one set so break things up early and often to make sure you can finish out strong. Easy day!
Thursday: It seems like these partner Thursdays are coming around a lot more often… And we aren't mad about it! "Aunt Bee" is going to be an awesome little partner chipper of wallballs, row calories, box jumps, and devils press! All reps are split between partners with one resting and one working at a time. You really want to try to move it intensity that will allow you to stay steady and consistent throughout this workout. Think about taking some big sets where you are strong so that you can cut down on transition times and keep chipping away at each movement. The devils press are probably going to be our most difficult movement here today so think about actually breaking these in the shoulder sets so that you can keep the intensity high and move quickly through them. This will be your last movement so really send it at the finish! Good stuff!
Friday: "Opie" is on the menu today! This is going to be a fun 10 round piece where we will complete a round every two minutes and 30 seconds. Your round will be one heavy squat snatch, 10 burpees over the bar, and 30 double unders. Each round will effectively be a little bit of a sprint. We want you to be able to knock out a round in less than a minute and a half so you get a good rest going into the next one. Our snatch weight will be on the moderate to heavy side so thanks somewhere around 80%. We want the weight to be challenging enough that it makes you have to enforce proper mechanics and form to make the lift. Heavy but not so challenging that it's a mental wreck and do or die for every lift. If you miss a weight more than twice go ahead and lighten the load on the bar for the next round. Keep some intensity in the burpees but not so much that you are able to go straight to the jump rope after your sit is complete. We're looking to get 10 done in around 30 to 40 seconds so scale the reps as needed. Obviously we want the double unders to be unbroken here so try to stay focused and light on your feet with relaxed shoulders. Let your wrists do the work!
Saturday: Partner Saturdays at Simplicity! Nothing better! "The Pickle Story" is going to be lots of rope climbs (or bar muscle-ups) and dumbbell walking lunges. There's nothing fancy about this workout today. Just get in here and grind with your partner and have some fun. There's nothing better than suffering and working with a friend!
       That's all we've got for you guys on this gorgeous Mother's Day. Once again happy Mother's Day to all of our beautiful and strong CFS moms. We really appreciate you guys and we hope you have an amazing day. If you haven't done so today, reach out to your mom if you still can or remember and appreciate her if you can't. We have an awesome week lined up for you guys at the gym and a really cool theme. Do yourself a favor and flip on a couple of Andy Griffith episodes this evening as you relax and recover and take yourself back to a simpler time! Now enjoy the rest of your weekend and we can't wait to see you all in class!
~Daniel