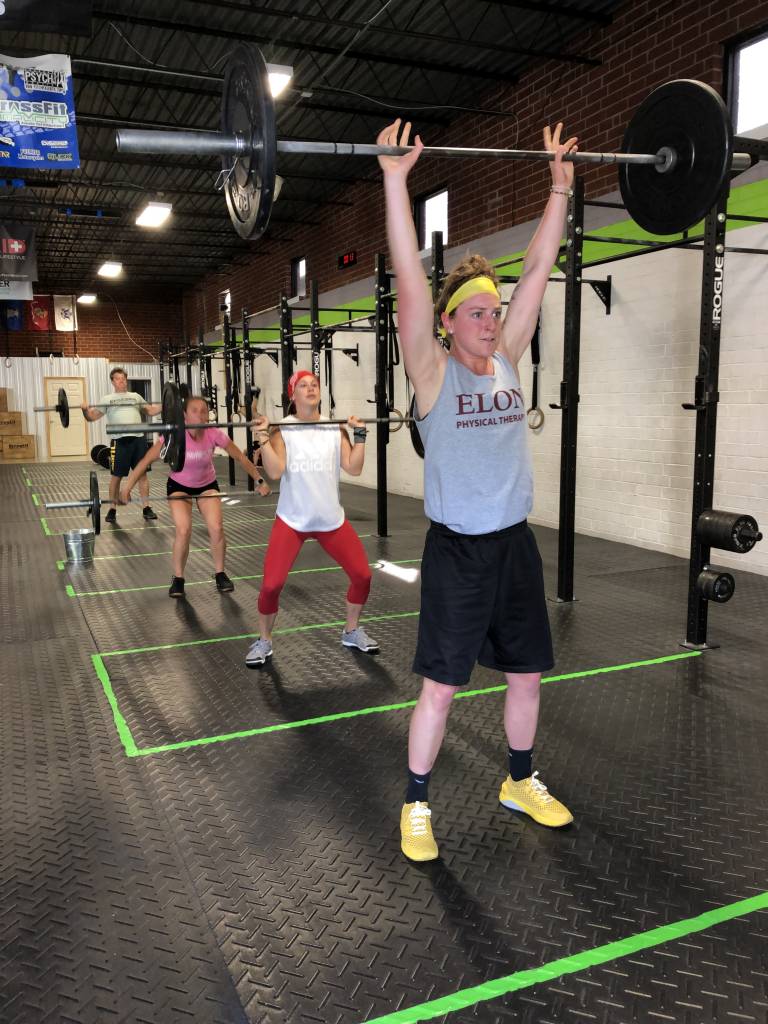 Hey guys,
First off, Happy Mother's Day to all our CFS moms reading this today! We love our strong moms and hope you all have the best day! We had a great week in the gym last week and we can't wait to repeat. This week's programming is looking really solid…and so is the Summer Core Series. You guys have been hitting these and they have been very effective so keep it up and get that payoff this summer! Check out the announcements below and then have a look at what's in store this week!
Bring A Friend Day is THIS Sat at 9am! These have been so great this year so don't miss it! You know DJ-LA will be there!
The Simplicity Summer Series, our next gym competition, is set for August 3rd. This is an in house competition but we've decided to help you all find partners by allowing you to invite someone from outside the gym to partner with you! This means if you have a CrossFit friend somewhere else you're more than welcome to invite them to partner up with you for the competition!
The Summer Core Series has been going great! We'll have 3 more workouts released this week and we hope you'll all give them a shot! If the movements or reps seem to challenging remember that it's ok to scale things back, just like in class!
"Murph" will be May 27th! We'll have 2 heats that morning. One at 8am and one at 9am!
Monday: Starting off the week with a lifting day! This should be a good one for us as we just had a snatch complex late last week so the form and positions should be fresh in our minds. Today we'll be working up to a heavy single on the hang power snatch. We will build to this with some triples and doubles that should be challenging but not something that we should fail on or miss. Remember with the power snatch to keep those knuckles down, be patient and get the bar back to your hips, then open up and shrug hard..be quick with your feet and quick under the bar!
Tuesday: Great day for you guys today! This one will be really tough and really fun! This is "The Shaman". It's a three part AMRAP with 3min rest intervals in between. This means that you should be pushing the pace on each of these AMRAPs. Each AMRAP is similar in movements and style..yet the reps decrease each AMRAP but the difficulty of the movements increase. These are great little pieces and each is only 6min so once you knock out a round you are almost done..this should help you push the pace mentally as well!
Wednesday: Solid "flow" workout planned for today. This one will be well into the 30-40 min range for most of us so keep that in mind when coming to class. We'll have to keep things moving and get the workout started so we have time to get it all in. This one has a little bit of everything but follows a pattern of running and rowing to start off each "section". On these flow workouts it's important to remember that we never really want to "redline" we just want to keep a strong steady pace and a mod/high heart rate. Breathe and move.
Thursday: This will be a super cool day! Thursday's are always a little different and this one is no exception. We'll start off with a cool farmer carry piece with a penalty each time you drop…then…we'll have a handstand push-up piece with a penalty every time you drop! These will definitely be fun and pretty interesting. 
Friday: I can hear the burpee moans and groans already…but don't! This stuff makes you better! This one will definitely be a mental grind but it's going to be good for you. This is a chipper style workout with light weight power snatches and burpee box jump overs. The key here is to stay moving! The power snatches should be light…remember that..just because you can power snatch this weight doesn't mean you should. We want you to be able to knock these out in bigger sets so scale the weight if needed. When you get to the burpee box jump overs just move. Breathe and move! The key is to break things down in your mind to manageable and small sets. 
Saturday: BRING A FRIEND DAY! This is out next chance to invite your friends to see what CFS is all about! Of course we'll have DJ-LA here to give us a great atmosphere and keep us energized! Bring a Friend and let's have a good time!
Overall we have a great week ahead of us here at Simplicity! You all have been really killing it lately and it's showing! Double unders and handstand push-ups have been coming along better than could ever have been expected and out Olympic lifts have been great! Keep focusing on the technique and form and things will continue to progress. Can't wait to see you all in class and have a great week!
~Daniel