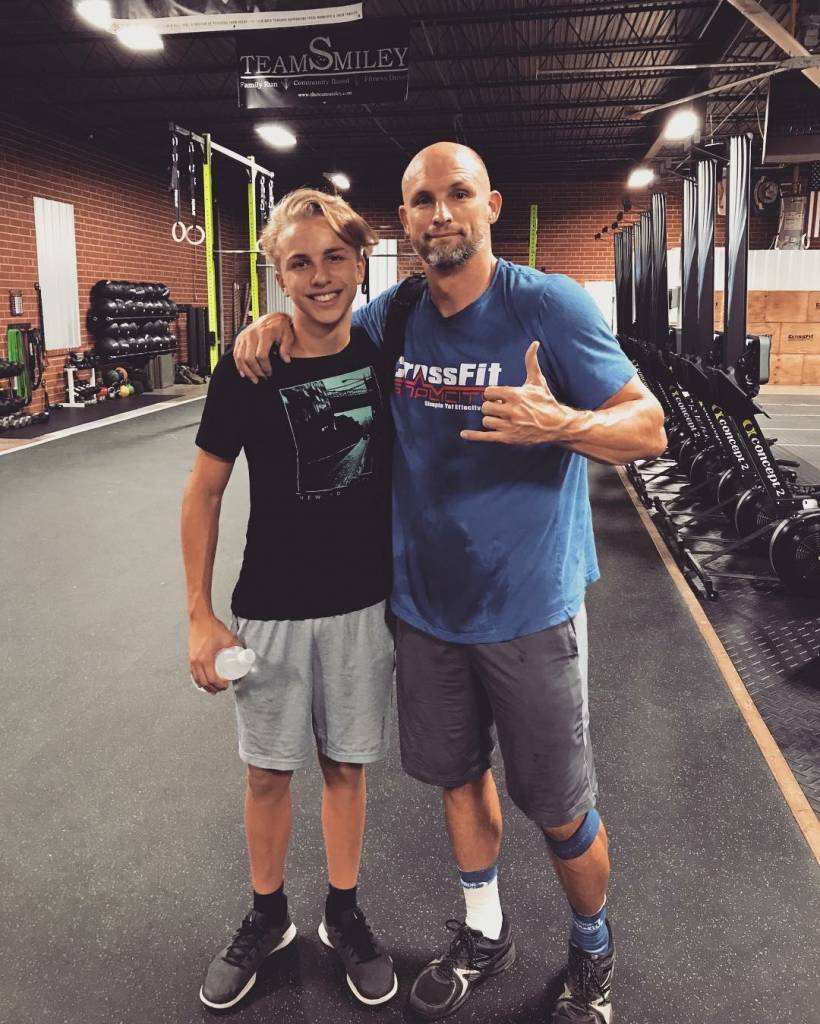 Hey guys,
Happy Father's Day! We definitely want to take a minute to shout out all of our CrossFit dads who are in here killing it everyday so that they can keep crushing it at home! Hope you dads had a great day! And that brings up a good point: It's really hard to find the time, money, and energy to stay in the gym and committed each and every week but you guys (and gals) keep doing it! And that's something to be proud of. Sometimes as parents there's a ton to keep up with day to day and it's easy to put ourselves aside. But taking care of yourselves and getting in the gym to relieve a little stress, have a little fun, and improve your health is one of the best things you can do for your kids! So shout out to all of you Simplicity moms and dads that are setting a good example for your kids and also making sure you'll be around..and mobile..to be the best parents you can be! So, without further ado, let's check out a couple announcements and then see what we have planned for this week!
Shirts have been ordered! If you pre-ordered one of our women's tank tops will give you a heads up when they come in and run your card unless you would rather pay cash. Our next T-shirts will be on the way soon as well and these will not require any pre-order.
The Simplicity pool party was a blast! Thanks again to Brandon and Clair for hosting us this year and thanks to everyone who came out! If you missed it then don't worry, we will certainly have some more get-togethers while the weather is warm. Word on the street is that sand volleyball is in the future!
Get your partner ready for the Simplicity Summer Series August 3rd! We have also opened this up for you to invite a partner from outside of CrossFit simplicity!
Monday: what do Mondays and Burpees have in common? Everyone hates them! (which does make them a fitting duo to kick off the week) like we always say, usually the things you hate the most are the things you need the most. Tomorrow's workout is ultimately an ascending burpee ladder on the minute. So you'll begin with a certain number of burpees and then increase this by two every minute on the minute until you are no longer able to complete the required burpees within the minute. The key here will be to move it a smooth and steady pace and try to keep your heart rate low as long as possible. At the end you'll just have to go all out and see how long you can hang on! After this we will have a good accessory piece to work on those shoulders! 
Tuesday: Lifting day! And what's better than a squat day? Today will take about 20 minutes to build up to a heavy set of 4 front squats. We will also want to get 5 sets working 10-15% of this max set of 4. After this we will take our best set of 4, load 65% of that on the bar, and then complete as many reps as possible in one minute at that weight. This is going to be a great day for the front squat. Remember to keep your core tight, your elbows and chest up, and fight to maintain a solid position in the bottom. Next we'll have a cool little accessory piece to round out the day. 
Wednesday: Back to back AMRAPs! This is a really cool workout that will flow from AMRAP to AMRAP. Each one a little different and each getting shorter and shorter. They'll be no rest between these and the 3 AMRAPs will total 9min. That means this is a short workout and one that should be hit with a good bit of intensity! This one has a little bit for everyone with some barbell cycling, rope climbs, DUs, DB snatches, and rowing! This is definitely one you don't want to miss! 
Thursday: This one is going to be good…And burn a little bit too! Today is a chipper with one round of rowing, chest-to-bar pull-ups, and…..thrusters! You've got to pace this one out a little so that there's some gas in the tank for those thrusters. When you get there just try to break them up into manageable sets and try your best to stay on the bar. It's important to try to manage your rest and get back to the barbell just a few seconds before you think you are really ready. Trust yourself and go for it!
Friday: "NATE!" This is a benchmark workout and one that some of you have seen before. This is an AMRAP with really small sets and quick transitions. Personally these are my favorite because mentally it's easier to handle short sets and quick transitions. It will help you mitigate some of the muscle fatigue and stay moving! That's going to be the key here. This one has ring muscle-ups and handstand push-ups so be prepared to scale if necessary. This will still be a great workout! If you have these two movements then it might be a great chance to go for it because the rep scheme is small per round. Either way it's a great day!
Saturday: This one is going to be a little different than our usual Saturday workout. It's still a partner workout but it has an unusual buy-in. (You'll have to come to class to find out) After your buy-in is complete you and your partner will work to complete as many reps of a chipper in the remaining time. Wallballs are on the menu as well as some gymnastics movements! Don't miss out! 
Overall we have a great week in store for you all! Everyone has been doing so great lately and we couldn't be more excited about the progress and the fun that this summer is going to hold for us at CrossFit Simplicity! Thank you guys for showing out big time at the pool party and also at the Bring A Friend Day event! (It was AWESOME) If you missed it we have another one July 20th so be sure to tell a friend and join us. As always, huge shout out to Leslie/DJ-LA for providing the best atmosphere! Can't wait to see you ALL in class this week!
~Daniel