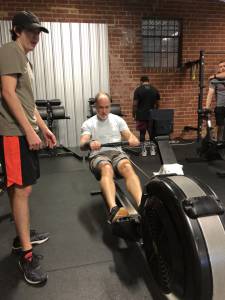 Hey guys,
       When you clicked this link you already knew what time it was…time for another edition of the CrossFit Simplicity Weekly Rundown! I know it's been a cold and dreary couple of days here in beautiful Burlington North Carolina but I promise you that this week is going to be a little more mild than the last…but do not fear…the workout intensity is still going to be here. Lots of good, well rounded workouts. Whether you are preparing for a life and death criminal encounter or saving a toddler's life as they fall from the kitchen counter…these workouts are going to get you ready! Be sure to keep showing up and keep that consistency and routine built into your schedule so that you build good habits in the gym that will lend to long term results! Now check out the announcements below and then let's jump headfirst into this upcoming week here at CFS!
Bring A Friend Day/CFS Anniversary: Tomorrow, February 15th, will be the four year anniversary of CrossFit Simplicity! Our next Bring a Friend Day on February 27th will be a special one to celebrate four years of this awesome community. Save the date and spread the word!
Rowing Cycle: Take advantage of this awesome opportunity to throw some extra rowing work into your weeks and PR your 2K row at the culmination of the cycle. Remember To get in your six minute row distance test this week and then to scroll down in Wodify every Thursday or Friday for the corresponding workouts. We will post these on Sunday as well in case you miss them in the system.
Monday: Happy Birthday CrossFit Simplicity! This amazing community is four years old today and stronger than ever! Thank you all so much for contributing yourselves, your personalities, your time, and your energy into making this place so special and keeping it going. Here's to another four years! Now, in honor of how "classic" CFS is becoming we are going to hit an old classic workout from the CrossFit main page, "Grettel Ingrid." This is an awesome little tin round piece that is also great Open prep work. Each round consists of three power snatches, three bar over burpees, three power clean and jerks, and then finally three more bar over burpees. This one should be moderate to high intensity with a definite push in the last couple rounds. You'll want to try to maintain good steady state work throughout your burpees while trying to recover your breath so that you can get onto your bar relatively quickly. Because the reps are so short they will not be a lot of time for built-in rest so try to push yourself to transition relatively fast and keep a good steady pace until those last couple rounds where you'll really want to open up. Notice lastly that these are programmed as "burpees over the bar" and not "bar facing." This means that you can do your burpees parallel to your bar and then jump over with both feet rather than having to face your bar. These will be much faster and more efficient so be sure to practice them as you warm up. Good stuff!
Tuesday: Today is going to be EPIC! We have so much in store for you guys and so much opportunity for growth, learning, and fitness! We are going to kick things off with our snatch complex consisting of two snatch pulls and then two snatches. Remember that your snatch pull is ultimately just a snatch from the floor….but. Everything will be exactly the same except when you get back into your power position and fire through your legs/hips to triple extension to contact that bar with your hip simply shrugged upwards but do not bend the arms at the elbow or pull over head into a snatch. The movement ultimately stops after you contact the bar and reach triple extension with a hard shrug at the top. Remember that we have talked in the past about how good of a primer this is for your snatch. After these two snatch pulls you will go directly into two snatches. The bar should come up in the exact same way, powerfully contact the hip, but then you will continue to pull under the bar into a full squat snatch for the next two reps. After this we have a really cool Tabata style workout to tackle. (Tabata: workouts completed in set intervals of work/rest. Mostly :20 of work and :10 of rest.) "Ethel" is going to be a task of completing 400 reps only working in a Tabata style interval pattern. Also every rest period you have to rotate through the movements. These will include pull-ups, push-ups, step back lunges, and air squats. So you don't get too confused I would suggest just keeping a running count throughout the intervals of your total reps you have completed. No time to write on a board. You're going to need to push yourself to work hard because you only have 20 seconds on each movement. It might also be a good strategy to pick the movements you're best at and focus on getting your most work done within those intervals and just maintaining a steady pace to the movements you are this fast it. Either way, easy day!
Wednesday: "Dorothy" is on the menu for us today and this one is going to test your core, grip, and GRIT! love it! We will have three rounds of this workout today. Each round giving us a separate individual score and each round followed by a five minute rest to recover before the next. Each round will have an equal number (20) of sit ups, deadlifts, and toes to bar. But before each movement you have a set of calories on the bike to complete. So think bike/movement, bike/movement, etc. This workout is going to be a little harder than it looks and the target time is aggressive so be sure to scale accordingly so you can keep the intensity high during this one. The calories on the bike are relatively low but it's still a good idea to maintain just a steady consistent pace so that you're ready to get off and get to work. Sit ups should be completed in 1 to 2 sets maximum and the deadlift weight should be something around 50% of your one rep max. Think something moderate to light weight. The toes to bar will really depend on your individual capacity. For some of you guys that may mean two or three big sets. For others maybe 4 to 5 smaller sets. Either way stay rolling! We want to work hard during each round and trust that rest to recover!
Thursday: Mid-week partner workout! Loves these days to come in and throw down with a friend! "Lucinda" is going to filled with row calories and Allll your favorite dumbbell movements. You love it! To keep things simple you'll basically have a row distance and then a dumbbell movement and this pattern will continue throughout the workout. Your dumbbell movements will be double dumbbell deadlifts, dumbbell shoulder to overhead, and dumbbell squats. You can break up distances and reps as needed to knock this out with your partner. You will see the deadlifts and the overhead presses twice but the dumbbell squats only once so strategize accordingly. Some of you guys may choose to break things up more often at the cost of higher transition times and some of you may choose to go for bigger sets at the cost of higher fatigue. It's really up to your strengths and weaknesses. I don't for see this being much of an issue but if you are sore from the dead leaves on Wednesday you can change the double dumbbell deadlifts to double dumbbell hang cleans with your partner today. Have fun with this one. Work hard when it's your time to work, and encourage your partner when it's your time to rest!
Friday: "It's Friday, Friday, gotta get down on Friday" ~Rebecca Black (superstar) It's Friday at CFS so you know we are gettin down with a two part day. Part one is going to be a nice little two position clean complex with the first being from the floor and the second from the hang. Try not to drop the bar between these reps but rather go unbroken. The percentages will be a bit heavier today with your final three sets being at 85% of your 1RM clean. These are squat cleans today! After this we'll hit "Edna." This is going to be an awesome two part workout all rolled into one…makes perfect sense right? It will! We will start with a three round couplet of overhead squats and double under and after those three rounds will segue directly into another three round couplet of thrusters and double unders. There will be no rest between these two and you will have one total time for the entire workout. It's going to be great! The weight is pretty light and should be something we can go unbroken on for both movements. Try to do this to cut down on rest/transition times if possible. Double unders should be something you can easily complete in 1 to 2 sets fatigued. Really go for it on this one!
Saturday: As always we have a partner piece for you guys today to kick off the weekend right. This one is going to be lots of pushing and pulling with dumbbell floor presses, push presses, push-up, rope climbs, pull-ups, and even bent over barbell rows. This is certainly going to be a little pump session of sorts so really have fun on this one. Be sure to use your partner early and often with quick transition so that you don't take any of these movements to absolute failure. Especially the pressing movements! Basically what you're looking at today is three different couplets of pushing and pulling movements which is going to make for an awesome workout!
      That's all she wrote…he wrote? Either way that's all we have for this week's Rundown! Like always it's definitely going to be a very exciting week here for us at the gym with lots of great workouts and lots of variance to keep you guys guessing and entertained! Each year around this time it is a very special Rundown for me. As I mentioned before, Monday we will be celebrating four years as a gym family here at CrossFit Simplicity. Every year it is a more and more humbling experience to celebrate the anniversary of this gym and this amazing community. The atmosphere, energy, and love that you guys bring into this place each and every day is absolutely something I do not deserve. I speak for myself and all of your coaches when I tell you how grateful we are for each and everyone of you in this place. This time of year it is great to reflect on what we have built together and the relationships that we have formed. It was always my intention to create a place that was positive, uplifting, and motivating, and because of you all I believe we have achieved it! We will do everything in our power to ensure another year of an amazing atmosphere and amazing results for each of you guys. Thank you so much for coming along for the ride! See you all in class…
~Daniel