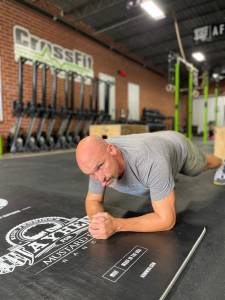 Hey guys,
      It's Sunday here in beautiful Burlington North Carolina and that means it's time for the CrossFit Simplicity Weekly Rundown! We had a nice fall weekend and now it's time to put in some work. We have an awesome week ahead of you guys as we rest one more week before heading back into a new strength cycle. this weeks theme is going to be the Titanic! Think Jack and Rose…don't think about that wardrobe they could have easily both sit on. Just saying. Now let's sink into this run down and see what we have in store! (Too soon?)
Fall Gear: Our New fall CrossFit Simplicity gear has been ordered and should be on the way in the next week or so!
Halloween: We will be having a little Halloween get together and bring a friend day on October 29th! Costumes welcomed!
Weightlifting: New Strength Cycle starts Oct 24th.
Overview: This next cycle will be broken down into two parts. In the opening cycle, we will perform two Power Lifts (Back Squat & Shoulder Press) mixed with Olympic Lifting. The focus is on building the posterior chain while training your athletes to embrace the monotonous journey of strength training. Meaning we are going to grind through some big sets. You will notice more core work and accessory pieces for developing midline stability and overall leg strength. At the conclusion, we will take a 1-week break to reset and prep for Part 2.
On days with the strength, we will focus on keeping the workouts shorter (under 15 minutes) to allow for more coaching time. Lifting will be on Monday (snatch) and Wednesday (clean and push jerk) for the cycle duration unless stated otherwise.
Workouts: It's Spooky season! October is here, and we got some fun workouts in store. Monday starts off the week with a burner on the dumbbells. For Tuesday, we take a version of 2015 regional; workout (event 6), and we make it a fun, high-skilled interval. Wednesday hits, and we will have some wobble legs around the gym, so be ready for some rolling out after. Partner Thursday, and it's a gripper for sure; make sure athletes bring hand protection. Friday, we end the week with a solid chipper to go big on the thrusters and sell out on the burpees. Enjoy the last week without strength, and let's have some fun!
     Well, that's all we've got for this week's edition of the crossFit Simplicity Weekly Rundown! It should be an awesome week in the gym and a great chance to let your body recover a little bit and still get in some great conditioning work as we prepare for our next strength cycle. Remember to try to get in here as consistently as possible so that we can continue to see those results. It's going to be cooling down a bit in the gym which should make it easier to push on some of these metcons! Also don't forget to grab a costume and invite a friend to our Halloween bring a friend day October 29th! See you all in class.
~Daniel