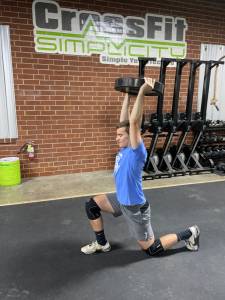 Hey guys,
     It's Sunday! The international day of the CrossFit Simplicity Weekly Rundown! Time to see what's happening at CFS this week. We have an exciting week ahead with lots of transitions to talk about. First off we have a big day Monday as we tackle the Memorial Day Murph workout. You all have prepped hard for this so show up ready to work. We are also transitioning from one strength cycle to the next. This means we'll have a little "off week" before our next cycle starts June 5th. BUT have one more transition to talk about…We are also transitioning to a new program! We will be moving to NBD programming beginning June 5th! We will have a ton of details coming this week but for now just get excited! Now let's see what we have in store this week as we transition from May to June as well!
Memorial Day Murph: Murph is MONDAY! We have 7am and 8:30am heats so get in here and let's make it happen! Remember to check your inbox from last week for all the details!
NBD: As some of you guys know Nick DiMarco and Nick Boudreau have begun programming for some of us at the gym as well as other athletes around the US. They have been developing an affiliate track as well, based on the needs of our gym community. I truly believe this is going to fill some gaps and help us progress in our capacity, gymnastics, and lifting! This week we'll put out an email with way more details outlining the ideology behind the programming and progressions, and a layout for how our weeks will look. I believe it's important that you all understand the methodology so that we can get the most from the program!
AMRAP For Autism: We are going to be hosting a workout to raise money for Autism June 17th! Save the date!
Workouts:
Excitement is in the air as Murph has arrived and all the preparation we've put in up to this point is about to pay off. It's important to remember all the rep scheme options in case you choose to partition the reps. Details of these are in the Murph email we sent! On Tuesday, we have an all Erg workout that can be used for active recovery or ramped up for those who want to push themselves. Step-back lunges are included in Wednesday's workout, which will require you to focus on stability and consistency. Thursday's workout will be in the Open style, and it's crucial to remember the importance of pacing early on. I'm most excited to see how you strategize your approach to the back squats and burpees on Friday. On Saturday, there will be another partner grind featuring heavy deadlifts on the menu. Good Stuff!
    That's all we've got for this edition of the CrossFit Simplicity Weekly Rundown! This is certainly the week of transitions and an exciting time here at CFS. Be sure to read over the announcements again and save the date for our Autism AMRAP June 17th! You all make sure you get lots of rest tonight because we have a big day Monday! Let's have a great week here at the gym and keep getting in here and staying committed. See you all in class!
~Daniel