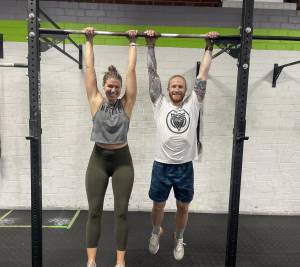 Hey guys,
      First off, happy Mother's Day to all of our CFS moms out there! You guys are smart, strong, and skilled at juggling life, kids, and fitness! We appreciate you all so much! Now it's time for another installment of the CrossFit Simplicity weekly Rundown! We are rolling steady into me and you guys are doing an excellent job of showing up and putting in the work. We are on week eight of our strength cycle which means we are nearing the finish line. On top of all this goodness we have an awesome Johnny Cash theme this week so be ready to hear a little bit of that come in through the speakers…At least during the warm-up! Let's jump in…
T-Shirts: New shirts are on the way and should be here before Murph!
Memorial Day Murph: We are going to have two hits on Memorial Day. Most likely one at 7 AM and one at 8 AM. Potentially one at 8 AM and one at 9 AM. We will check the weather and see what looks the best!
Bring A Friend Day: BAFD was a huge success! We had a blast so thank you guys for coming out! Also special thanks to DJ-LA for setting the mood!
Monday: You probably already guessed it but we are taking off the week with some Murph prep Monday. "Johnny Cash" Will be a two-part workout with a four minute rest between each part. Part one will be four rounds of a 200 m run, 10 pull ups, 20 push-ups, and 30 air squats. After the four minute rest part two will be eight rounds which are virtually the same but cut the reps and distances in half. Stimulus today is moderate pacing throughout. The goal today is to have you guys completing rounds and different splits to get a feel for strategies used during Murph and to work on pacing changes as volume changes. Easy day!
Tuesday: We have a fun snatch EMOM today for our lifting. Every minute on a minute for 10 minutes you will complete one squat snatch at 75% of your one R Max. We are aiming for consistency and proper technique today! After this we will hit a little 21-15-9 piece called "Ring of Fire!" This is going to be deadlifts and a moderately heavyweight and tall box jumps. Stimulus is moderate pacing throughout. We have a pretty challenging weight on the dead lifts and high box jumps which means you guys should pick a steady pace to work off reps consistently and ensure that there are no missed reps on the box jumpss. Be careful! This workout is actually from the 2011 CrossFit regionals!
Wednesday: Just like Tuesday we will be doing a 10 minute EMOM but today you will have one squat clean at 75% of your one-rep max every minute on the minute. The goal is the same. Consistency and proper form. After this we have a little partner workout called, "Hurt." Teams of two will be working through rounds of running or rowing and wallballs. The way this will work is that the rower will constantly be occupied. One partner will be rolling while the other partner knocks out 18 wallballs. The person knocking out the wall balls will then have a little rest while they're waiting for their partner to finish rowing and then they switch. Stay moving and have fun with this one today.
Thursday: Going overhead today! Will be working to a light/moderate double on our split jerk today. Stay moderate and focus on form. Next we will hit one of my all-time favorite songs…Not a joke…"A Boy Named Sue." In all seriousness, please come to class prepared and knowing that if I'm coaching you will have to listen to this song in its entirety and we will be listening for the lyrics and to understand the story. This is going to be a three round work out of right arm dumbbell shoulder to overhead, ring rows, left arm dumbbell shoulder to overhead, and more ring rows. Lots of pushing and pulling in this one so be mindful of the volume on your shoulders and biceps. Your upper body is going to go through the gauntlet on this one so it's important to know when to break up sets and when to begin the next movement because muscle failure will creep up faster than you think.
Friday: Starting off the day with a little bit of snatch balance work. We will be working on some doubles and we want to focus on keeping the weight light or moderate and being really crisp. Next up we will hit a big chipper called, "I Walk The Line." This one's going to be descending reps of double unders, GHD sit ups, and power cleans. This is going to be a bit of a longer piece but we still want some moderate to high intensity because the reps are descending. Push the pace and move with a purpose. Attack the power cleans on every rep! Be explosive but don't rush the reps. Have fun with this one and get after it!
Saturday: Partner day! "Rusty Cage" is going to be rowing, handstand push-ups, double kettle bell front rack lunges and a lot of fun. Just kidding this one's going to be tough on the shoulders but it should still be fun as long as you are encouraging and motivating your partner. Saturdays are always the best so get here at 9 AM!
      Well that's all we've got for this edition of the CrossFit Simplicity weekly rundown. Again happy Mother's Day to all of our moms and all you CrossFit mothers. We are so thankful for each and everyone of you. May we never take for granted the hard work and sacrifice that comes along with being a good mother. Hopefully your workouts here in the gym better equip you for your life outside! Now everyone get plenty of rest and relaxation so we can hit it hard in class on Monday. See you there!
~Daniel