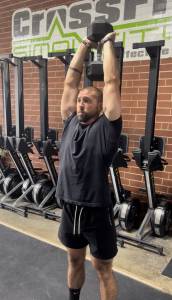 Hey guys,
      It's a beautiful Sunday here in Burlington North Carolina and time for another variation of the CrossFit Simplicity Weekly Rundown! First off happy Father's Day to all of our CrossFit dads out there! You guys keep being strong and modeling good behaviors for your children! We are going to be doing things a little bit differently this week and next. The rundown is going to be on a bit of a hiatus this Sunday and next Sunday, June 26th. I will be putting out some announcements and a brief overview of the week. I apologize for this inconvenience. We will be back to the full rundown July 2nd! So let's get to it!
Bring a Friend Day: We will be having our next bring a friend day this Saturday, June 25th at 9am! We encourage you guys to spread the word and bring your friends and family for an awesome first time friendly workout with your favorite coaches and DJ-LA!
Weightlifting:
Week 3 (June 20)
Day 1: 2 Pause Front Squats x 5 sets @70% of 1RM / 3 Strict Weighted Pull-ups x 5 sets @65% of 1RM
Day 2: 2 Pause Bench Press x 5 sets @70% of 1RM / 3 High Box Jumps x 5 sets
Day 3: 2 Deficit Deadlifts x 5 sets @70% of 1RM / 30-40% Deficit Strict Handstand Push-ups of Max Reps x 5 sets
Workouts:
This week, we will attack the grip early on with three consistent days of "pulling some way, shape, or form. Monday is a nice little cardio piece that will evolve lightweight and barbell cycling. Tuesday, we get to lift heavy while under duress, which is always a real challenge for athletes. Wednesday is "hold on" and see if you can keep attacking, and then Thursday will be a fun partner chipper workout with some synchro and split movements. Friday, we will see a repeat workout from last year with decreasing reps but increasing skill and weight. Let's see if those who performed it last year can get back times, the cycle of movement, and maybe an increase in weight and skill.
       Well, that's all we've got for this weeks abbreviated CrossFit Simplicity Weekly Rundown! Again happy Father's Day to all of your dads out there and we hope you enjoy this beautiful Sunday! Continue to stay in the gym and stay committed as we roll into the summer. I know it's hot so remember to hydrate and get plenty of rest at night! See you all in class!
~Daniel