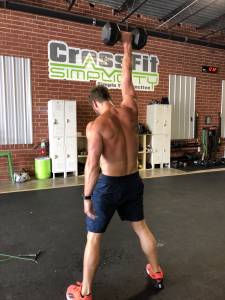 Hey guys,
       First off hope all you CrossFit simplicity dad's are having an awesome day! Happy Father's Day from all of us here at CFS! we have some truly amazing dads here and some awesome parents in general! I think it's interesting to note that one of the most important things you can do for your children is to make sure that you are happy, healthy, and setting a good example for how they should treat their bodies. Keep it up everyone! now, we have an awesome week ahead of us here filled with lots of great variance and a couple really cool surprises so be sure to check out the announcements below as well as what we have in store for each day!
"Murph" will be held THIS Saturday at 7am and 8am! We want to hit this early so that we can beat the heat and give you guys the best chance of success and a great experience! Remember that this one is tough so be prepared to scale if necessary!
DJ-LA will be coming to take over the music for all our evening class THIS Wednesday! This is going to be an awesome atmosphere and a ton of fun as always so be sure to sign up for our 4:30pm, 5:30pm, or 6:30pm class this evening!
T-shirts on sale at the gym for $20!
Monday: Big day today…Very big! We are going to be starting the week off with some back squats in the higher rep range and then breaking things down for a quick little burner to round out the day! Back squats will be in sets of seven today so they will be a touch lighter. The goal here today is three really good working sets with no failed reps so feel free to increase the weight across each set as needed. After this we have a piece that's going to be very spicy! This one will be one round of 10 back squats and a 500m row. This is an all out sprint so push the pace as hard as you can on that rower and leave nothing in the tank today! Good stuff!
Tuesday: Another great workout in the lineup to keep things rolling strong this week. This one will be a bit easier on the legs than Monday was but will still incorporate some air squats. These are actually going to be a great way to flush your legs a little bit so don't get too worried. Today's workout will consist of moderately heavy clean and jerks, air squats, and some running or rowing! Because the clean and jerks are on the moderate to heavy side you will want to approach these with some steady singles and try to keep that heart rate low. The air squats are definitely going to get your quads burning a little bit but try to keep these smooth, below parallel, and completed in a couple big sets.
Wednesday: DJ-LA will be in the house providing an awesome atmosphere for you guys during the 4:30 PM, 5:30 PM, and 6:30 PM classes this evening so you know it's going to be a great time! We have a tough little piece for you guys today to break up the midweek monotony. This one has a really cool buy in/buy out element. We were buying in with some toes-to-bar and buying out with some chest-to-bar pull-ups! In the middle we will have five rounds of row/bike calories and bar facing burpees. These bar facing burpees can get tough so be sure you just kind of settle in for the first three rounds and then really turn things on at the end! Because these movements don't compete with each other too much you should be able to push pretty hard on the opening set of toes-to-bar and also really go hard on that last buy out of chest-to-bar pull ups. Easy day!
Thursday: Guess what guys…the moment you've all been waiting for…Aerobic power day is back! Remember that we will be rotating every Thursday between aerobic power, aerobic capacity, and cardiac output. This one will not be a retest of our last aerobic power workout that we stored in our system but it will still be a workout designed to give you the same stimulus. I'll be honest…this one is tough! On paper this one looks really simple but remember that you need to be pushing yourself hard when it's time to work. We will be doing two minute intervals of work followed by five minute intervals of rest. You'll have two minutes to run 400m and then row or bike as many calories as possible in the remaining time. Don't miss today!
Friday: We have a great piece for you guys today that will allow us a lot of flexibility and a good bit of conditioning! We have a few options for you guys today depending on what you need to work on. We will be doing either a big set of ring muscle ups (or pulling variation) or a big set of hand release push-ups. The catch to today's workout is that every time you break you have a penalty of either row or bike calories…or a 200m run. That means there's going to be a good bit of strategy that comes into play here. You probably want to open up with big sets but not so big that you burn out and exhaust that muscle to failure too early!
Saturday: "Murph!" Unfortunately because of everything that happened with the shut down we were not able to celebrate our fallen heroes and hit our Memorial Day Murph workout. But that does not mean we don't still want to take a moment to honor those who have sacrificed and died for this great Nation. Murph is one of our tougher hero workouts so please consider whether you might want to scale the movements back to make things a little more manageable (or splitting it with a friend). It's the act of showing up and hitting this workout in remembrance of those who have died that really counts…not whether you Rx or not. We will be having early classes today to try to combat the heat so you will notice a 7 AM and 8 AM class that you can sign up for ahead of time. Be sure to register for your class time in advance! This should be a great little event so we hope you will all be able to make it out!
      We hope you all have an excellent weekend and all you dads had a happy Father's Day! We have an awesome week of workouts ahead of us and we cannot wait to dive in with you guys. The atmosphere and energy in the gym has been on point lately so let's keep things going! We are going to have a lot of fun this week with DJ-LA in house DJing the evening classes Wednesday, Murph on Saturday, and lots of great workouts. See you all in class!
~Daniel