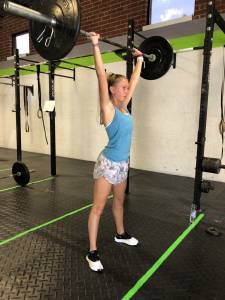 Hey guys,
       The CFS Weekly Rundown is hot off the press! Time to get rolling into another great week of training and fitness. We have a really excellent line up for you all with some great variety and lots of intensity. You all have been really crushing it in here lately and last week was a strong start to August. We want to keep the vibe alive as we move into this week and put in some really hard work. Now let's check out just what all we have planned…
Bring A Friend Day: Our next BAFD is August 22nd at 9am and it's going to be a good one! DJ-LA will be here providing the best music and we'll have a perfect first time friendly workout for your friends!
Addiction Recovery Class: Hodge is starting a class this Sunday that will be free to folks in the community that are struggling with addiction and in recovery. The class rule will be sobriety to participate as safety is our #1 priority. It will be scaled to whatever fitness level participants are at so CrossFit experience is not a prerequisite. The mission is to develop a positive sober active lifestyle through the vehicle of health and fitness and will be followed up with a devotion. Please share this information with anyone you believe may benefit from this program!
Monday: It's the start of the week and arguably the most important day! When do you get in here and set the tone for consistency and hard work for the days to come! We have an awesome piece for you all today that's a little bit different and will be a little bit heavy! Heavy in terms of weight but also in complexity of movement. This means that this workout will not be completed at a blistering pace but you Should still be making quick transitions and trying to stay moving. The reps are extremely low here but we do have 10 rounds. You will have a heavy clean and jerk, two ring muscle-ups, three high box jumps, and then four bar facing burpees. Because of the heavy clean jerk, the complexity of the muscle ups, and the height of the box jumps you'll probably have to go in a bit of a more methodical pace. Be open to scaling things back and just have fun!
Tuesday: We have an "up ladder" today with lots of legs and lungs…fun, fun, fun! This one is really interesting as it's a bit of a hybrid between a "for time" piece and an AMRAP. We'll be going from 3 to 21 reps of row calories and front squats. The weight is light and the first few rounds will go really quick. But do not be deceived…this one is going to be a challenge! We will run on a 12 minute clock. This means you either stop when you finish your round of 21 row calories and 21 front squats or you reach 12 minutes on the clock. At which point any remaining reps of the workout will be counting the seconds on top of the 12 minutes. Our recommendation would be to try to scale so that you can finish the entire work out right under that 12 minute mark. Like I mentioned above, this was going to get gritty at the end so try to hang in there and keep pushing on those big rounds at the end!
Wednesday: Hero/Benchmark day! We have a great one sandwiched in your week here. This one is a workout we've hit in the past and a very short and fast one. That means it's going to burn! We'll be hitting "Randy". This one is 75 power snatches at 77/55 pounds. The weight is light but the intensity need to be high! Very high. We want you guys pushing to finish this in under 7 minutes…and we'd love to see it under 4! Try to keep you hips high and think about catching the bar in a high power snatch as well to save time. Go to work and do your best!
Thursday: Surprise, surprise, it's aerobic day! Today will be an aerobic power day. These are arguably the toughest days and this one will be no different. The only saving grace will be that today is short…but it's gonna burn. This one is one round…one! You'll sprint a 400m run, a 500m row, and then a .7 mile bike. The goal here is sub 6 minutes so you've got to push it hard today. If you don't finish this one feeling close to death you probably didn't push hard enough so get after it's today and get that power!
Friday: "It's Friday, Friday, gotta get down on Friday!" (any Rebecca Black fans here?) We have a nice clean and simple piece for you guys today but that doesn't mean it won't be challenging and effective! This one's going to be three rounds of running, some heavy push jerks and a good set of pull-ups. The push jerks are going to be on the heavy side but should still be something you can complete in 1 to 2 sets. Each round will have 21 pull-ups so you may want to think about breaking these up slightly in the early rounds so that you can continue pushing and also keep from tearing your hands. If these are really in your wheelhouse then by all means, go for it! It should be a great day so let's have some fun with it before we start our weekend!
Saturday: We have a great one to kick off the weekend for you all! This one is not going to be quite as long as some of our typical Saturday workouts but it will still be a partner piece. Today we will have power cleans, toes to bar, and rowing on the menu! These rounds will be short so we want you guys to move fast. You'll have to come to class to find out the rest of the details but think about this…As an option you could run one full round as a sprint for one partner and then switch. That could get intense!
     It's looking like another great week here at CrossFit simplicity. Hopefully everyone had a spectacular weekend full of rest and relaxation and you guys are ready to hit it hard on Monday. So far August has been going and we want to keep this drive alive as we roll deeper into the month. There's lots of variance and some really cool workouts this week so be sure to stay consistent and try to hit as many days as possible so you can reach those goals. If you happen to miss a day or you have a day that just doesn't feel so great, don't sweat it! Remember that it is the culmination of all these days that really matter. And not one particularly good day or one particularly bad day. Keep your head down, your ass forward, and keep moving! See you all in class
~Daniel