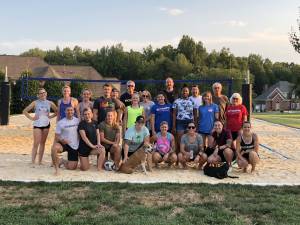 Hey guys,
      Hope everyone had the best weekend! We had an amazing time with everyone Saturday night playing volleyball. Thank you so much to Eleni and Rodney for opening up their home and being such great hosts! And thanks to everyone who came out to play and hang with us! I think it's pretty unanimous we had a blast! If you missed this night then don't sweat it… I can guarantee you we will do it again in the future! We had a really strong week last week and we are hoping to repeat as we head into this one! We have a new little "benchmark Friday" thing going on for the next few weeks so definitely try to make as many of these as possible because these are the real staples of old-school CrossFit! We are also starting a new monthly gymnastics skill course that will run on Sunday from 3 to 5 PM. Check the announcements below for details! Now read below to find out what's in store for you guys….
Gymnastics Skills Class: We are starting a new monthly skills class that will run one Sunday a month from 3 PM to 5 PM. This class will be free but will be limited to 10 spots on a first come first serve basis. Later this week we will announce and release a link for online registration. This link will work just like our normal class registration through Wodify. This will be two hours where you have access to 1-on-1 gymnastic skills work. We really believe this will elevate your in class experience, and for many of you could be the difference in checking RX on that workout some days!
We have a few Simplicity Summer Series t-shirts left at the gym and they turned out great! We are selling these extras for $15 so scoop them first come first serve while they last!
Volleyball night was LEGIT! Eleni and Rodney have the best sand volleyball set up in Alamance and we really threw down! I was so proud of how much encouragement, crap talk, sportsmanship you all displayed! Great time!
Benchmark Friday is now a thing around here. These are classic CrossFit workouts that we use to test and retest our level of fitness so try to make as many of these Fridays as possible! This week is "Karen!"
Monday: Bringing back the "Possible EMOM?" to start the week off. I'm not sure how I feel about this one…for some of us out there this one is possible, for me (last Monday testing this out with the usual hustle and bustle of stress that comes with day-to-day life) it was not! And that's ok! This one is alternating minutes of clusters (clean + thruster) and ring muscle-ups. Maybe on a good day it's there but Monday's aren't always good. So the way to approach this is to think about things ahead of time and go in with a game plan. If you are feeling good and you think you might be able to knock it out then definitely start the workout as prescribed and see how long you can hang on. If you bust simply drop the reps by two and keep going. Another option would be to scale the workout from the start to something you think will be manageable but tough to hold. Remember, the most important thing is to preserve the stimulus and get a good workout!
Tuesday: Heavy Day! And what's heavier than a Sumo wrestler? Maybe your Sumo Deadlift…I guess we'll see! (Too cheesy?) Anyway, we have a great heavy day for you guys today starting off with some Sumo deadlifts and ending with some heavy Russian kettlebell swings. We'll be trying for a heavy triple on the deadlifts but remember that we still want 5 working sets without 10-15% off that heaviest set that you hit today. Make sure to get a good grip on that bar and keep your core braced and as tight as possible during your pull (and throughout your kettlebell swings as well for that matter). Today is going to be pretty heavy on the posterior chain (backside) so make sure to roll out and get good sleep tonight.
Wednesday: We have a bit of longer AMRAP to get you guys to the backside of the week. This one will be 20 minutes and pretty basic. This is definitely where the "simple, yet effective" comes into play. This one is only running, air squats, box jumps, and chest-to-bar pull-ups but it's a great one for building more aerobic capacity and working on skills like pull-ups (and even good proper air squat technique which is so foundational and important). Don't rush these movements but go for quality reps and a good strong/steady pace. This one is definitely solid!
Thursday: Love this one! This will be on the shorter side depending on how much you like burpees and row/biking. This is a simple 5 round triplet with power snatches, bar facing burpees, and row/bike calories. Good stuff! The key here will be pacing (what's new right?!) Try to start calm and steady and then build. The bar facing burpees are going to get your heart rate up fast so try moving smooth and methodical through those. If you like the row/bike then this could be a great place to make up time. The power snatch weight should be on the moderate side for a metcon and something you'll want to pull singles on or maybe touch-n-go reps for some of you. Breathe and move, breathe and move…
Friday: Benchmark Friday! We talked about this earlier in the Rundown so we won't get into it too much now but today's benchmark workout will be "Karen". This one is a literal "love it or hate it" workout because it's only one movement: wallballs. And you probably either love them or hate them! Regardless of which side you fall on this is an excellent workout and one that will test you mentally and physically. 150 wallballs is no joke…I promise you. They say the wallball works about 11 different muscles in your body but there's really only one way to find out…Do 150 of them and then see how you feel the next morning! But don't stress too hard. We have plenty of ways that we can scale this back like lowering the weight, the reps, or setting the workout up as an EMOM to manage your work and rest. This is definitely one you should not miss and a great way to kick off the weekend!
Saturday: Snatches and rowing…fantastic! But really, when are Saturdays not fantastic? This will be a partner workout (feels like we have been having lots of team workouts instead lately) and will be a tough/good one! (There's also a slight chance this turns into a Bring A Friend Day so be on the lookout for that)
     We have another excellent week ahead of us as you can see from the Rundown above. The programming has been really solid lately we've been seeing tons of improvement in class. Although there is a love-hate relationship with hero month many of you guys got some well-deserved PRs so congrats on all your hard work! As we mentioned above remember that this Sunday from 3 to 5 PM will be our first monthly gymnastics skills class. This will be free but will be limited to 10 spots on a first come first serve basis. No need to email or text, we will announce the spots and use an online link for registration. We are really excited about this and think it will help a lot of you guys take your class experience to the next level! Now, let's get in here and have a great week… See you all in class!
~Daniel