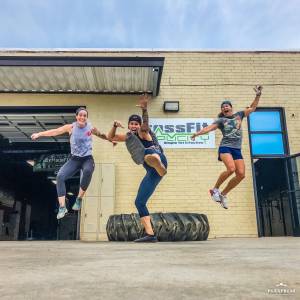 Hey guys,
      First off, sorry about the delay this week! We are back on track and I'll try to have things out Sunday evenings moving forward! We had a great week last week and we saw some really good numbers in the gym as far as performance and attendance which is a great sign that you guys are staying committed and seeing some results! This week should be no different and we have some really great workouts programmed to ensure that's the case. Big thanks to everyone who came out to bring a friend day and we saw a ton of new faces! Also thank you to Leslie, DJ-LA, for a great atmosphere as always! Now, have a look at the announcements and then head down below to see what we have in store for the rest of this week!
Bring A Friend Day was a huge success and a lot of fun! Thanks to everyone who came out to take part. If you missed this latest one don't fear, we have another Bring a Friend Day coming up September 28th!
Be on the lookout for our next two hour (free) gymnastics skills course one Sunday this September!
Monday: Today is a great workout. This is one you've been hitting hard all day and we have been really happy with these numbers. If you haven't hit this one yet then be sure to get in here because this is a really solid piece! The key here is to actually try to keep a good strong pace through all of the running, rowing, and biking portions. You want to leave yourself with at least a minute or two to knock out as many of the wallballs, hang power cleans, and handstand push-ups as possible. Try to stay moving through each of these AMRAPs knowing that you will have that one minute rest to lower your heart rate and prepare yourself mentally for the next one!
Tuesday: This is a really interesting and different piece for us today! Not all of these movements are unfamiliar to you but this combination and layout is a little unique. We will be doing alternating dumbbell snatches between rounds of dumbbell walking lunges. However, these will be a little bit different than usual. These will be suitcase carry dumbbell walking lunges. That means you'll only have one dumbbell in one hand held down by your side as you walking lunge. This is a very unilateral workout and will sneak up on you in your core! It's only three rounds and the transitions are fairly short so try to stay moving here. If you are feeling bold there's also an RX plus option today with a heavier dumbbell!
Wednesday: The "Possible EMOM?" is back…and this time…I think the answer is "No", but that's just me! This one is definitely tough. There's a lot slammed into each minute and it's a 20 minute workout which means you are going to have to have a very high level of fitness to get through this one as prescribed. That being said, who cares if we do it prescribed or not!? The main focus of the day should be challenging yourself and getting a good stimulus while safely (and correctly) completing the movements! So let's focus on that. This one throws a little bit of everything into each minute including burpees, chest to bar pull-ups, squat cleans, and front squats. Your heart rate is going to go through the roof quickly on this one so try to breeze, stay calm, and focus on just getting out of the minute you are in and not worrying about the whole workout. Good luck and remember to scale back where needed! (You could even take a rest min here and there if needed.)
Thursday: We have a nice gymnastic heavy piece for your Thursday this week. This one will definitely work some skills such as the handstand walk and toes-to-rings (that's right…rings!). This isn't one that's really going to blow you or anything that you will move super fast through but it should be one that we want to focus on quality of movement. This one also incorporates ring dips and a high box jumps that can both be pretty challenging. You don't want to get too ahead of yourself or move too fast and catch a toe on that box so be sure to stay focused on each piece. Done correctly this should be a pretty fun workout and gives us a good mix of strength, explosiveness, and skill work. Easy day!
Friday: Benchmark Friday! Today's workout is an oldie goldie: "Nancy!" This is one of the older CrossFit girls and is definitely tough! Lots of running and overhead squats here but one that can also be hit really hard if you're willing to go there! Obviously some of us will be limited by our overhead mobility and the depth of our squats but the weight is relatively light here and only 95/65lbs. The reps are on the higher side though (15) and the workout is 5 rounds so be sure to keep that in mind if you are trying to decide how to (or whether or not to) break up your sets on the overhead squats. Another key to a fast Nancy time is to keep yourself accountable and try not to rest on the runs. You can pick up a lot of time if you keep a strong pace throughout all five of your 400m runs so try your best. Have fun with this one and be sure to get in here today so you can add to the number of Benchmark workouts you've done!
Saturday: We have a pretty fun workout for you guys today! (When are Saturday's not fun, right?!) Today will be another team workout with three total to a group. This one will have the DB snatch again, as well as burpees and box jump overs…oh yea…and your burpees are over the DBs as well! This is going to be another workout where we rotate through rounds so there will not be as much rest as you are typically used to in our partner workouts. This means you might need to pace things out somewhat but hopefully there is a movement that's in your wheelhouse and you can catch your breath while you wait for your partners to finish their movements. Either way, push yourself hard and cheer on your team mates while you work!
        It's shaping up to be another great week at Simplicity! I want to apologize again for coming out with the rundown a day late and hopefully this didn't cause too much of an inconvenience! We have some really great workouts this week and we hope you all will be able to attend as many as possible and keep chipping away at those goals and improving your fitness. It seems like CrossFit always offers us new challenges and things to improve on and we hope you guys are enjoying your time in class working on these things! Let's get in here the rest of the week and put in some solid work that we can feel proud of! See you all in class…
~Daniel