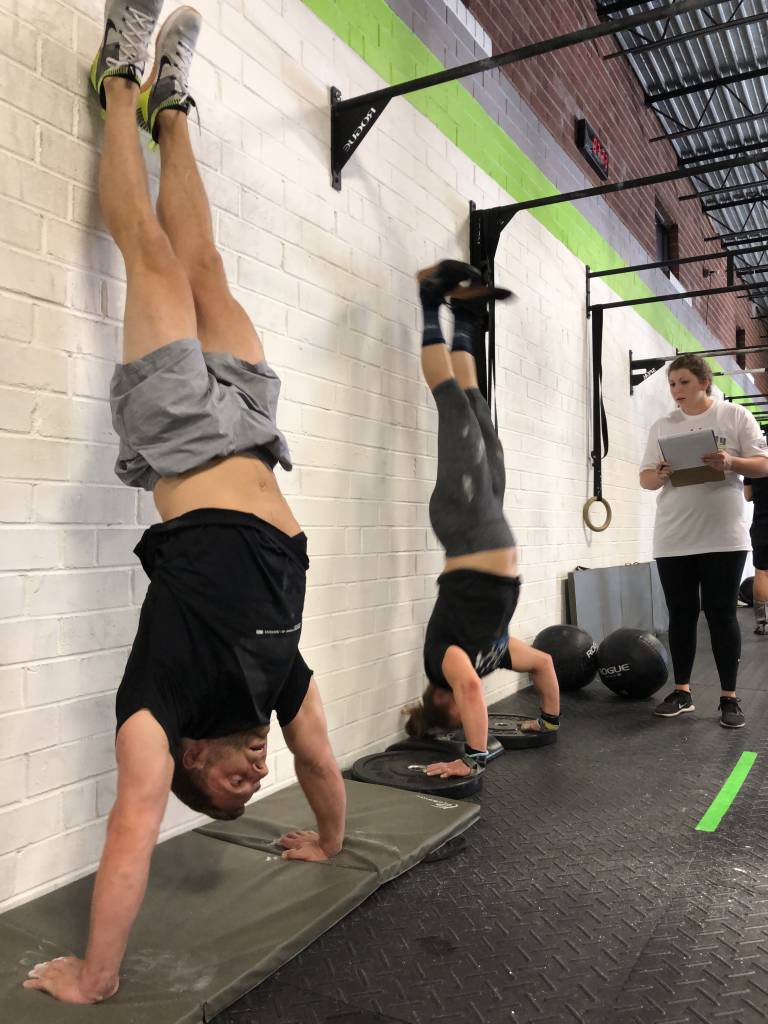 Hey guys,
The weekend is winding down..which means the week is about to crank up. It's time to have a look at the Weekly Rundown and see what we have on the menu. We had an amazing time at the Simplicity Summer Series on Saturday! Huge thanks for everyone who came out and participated (and all our judges and sponsors). You guys did amazing! Also want to give a big shoutout to Coach Felicia for running such a great event and programming some awesome workouts! We had a blast with you all and we can't wait until the next CFS in-house competition! Now it's time to get into some announcements and have a look at what we have planned for this week's programming…
Huge thanks again to all who make the Simplicity Summer Series such a great day and to all the hard work and great sportsmanship from our competitors!
We are having a Volleyball night next Saturday, August 10, at Eleni's house! Stay turned for more details this week!
You guys might notice some scaled variations of our programmed workouts moving forward. This does not mean you have to pick either the RX or scaled variation, this is simply a quick suggestion at how you might want to modify the workout. However, for some of us these might be great options to consider! If you do the scaled work out as it is written simply add that into the comments…"Scaled"
Monday: Nothing is impossible! Well…maybe this EMOM, but that's for you to decide. We are kicking off the week with a challenging 15 min EMOM. This is one that will take quite a bit of grit and conditioning to get through but for some of us it may be possible. This is also another great opportunity to talk about scaling and modifying workouts to get the proper stimulus. For most of us this workout done as prescribed would be tough to hang with so we may want to lower the amount of reps each minute. if you feel like you want to give it a go then just get after it as hard as you can and if you bust one minute shorten the rep moving forward. Good stuff!
Tuesday: We have a solid two round piece today with a good mixture of running and bar work. We'll be doing some 400s with thrusters and overhead squats mixed in there. That means this one can be a real burner…on the lungs AND the shoulders! Because the weight is moderate and the reps are a touch on the high side you might need to think about breaking things up early on to be sure you don't burn your shoulders out too soon. Once you get in that last round just go for it! Remember in the overhead squats that if you narrow your grip a little it will be less taxing on your shoulders…but if your hands are wider you'll be able to get into a deeper bottom position. So find your happy medium! 
Wednesday: This is a classic one here and definitely one that a lot of us have done 1 or 2 times at Simplicity. The "Dallas 5" consists of 5, 5 min AMRAPs and they are tough! There is a one min rest between each AMRAP but that's really just enough to move to the next movements and write down your reps from the previous AMRAP so stay focused. Generally there's one or two of these that kind of play to your strengths so there may be some strategy in trying to work steady through AMRAPs that aren't really in your "wheelhouse" and then turn it on hard on the ones you like and think you'll be able to accumulate the most reps on. Either way you tackle it this is a great Hero workout!
Thursday: Weightlifting day! We have a pretty cool complex for you guys. We'll be working up to a heavy "single" of 1 hang power and 2 jerks. This means that one rep of the complex is a hang power clean and then 2 jerks without dropping the bar. As always we want the emphasis to be on proper form and movement today and only go heavy if things feel and look good. If you're just starting out on these or need a little more fine tuning then a good option would be to hit sets of 3 at a lighter weight. This will get you in note reps/practice! After the lifting we'll have a little farmers carry work to finish out the day!
Friday: Benchmark Friday! (Is that a thing? Today it is..) We'll be hitting one of the original CrossFit "girls", Elizabeth! This one is solid for sure. It's also one that some of us have done before so be sure to give it your all and try for a new PR or set the bar high for future attempts. One of the biggest things you'll need to notice about Elizabeth is that it calls for squat cleans as Supposed to power cleans. For some of us this may be difficult and it may require that we reduce the weight to allow ourselves to pull fully under the bar. This is what we want to try our best to achieve because it's a very different workout with a squat clean instead of a power clean. We also have some ring dips today so make sure to pace them out and save those triceps. If these are tough we can add a band or do the dips on a box! 
Saturday: We have a cool team (3) workout for you all this Saturday! This one going to be pretty tough but does incorporate a little rest so that will help you push harder when it's your time to work. We are also bringing back the ole "over-unders" which can be super tough and pretty spicy on the lunges and legs so get ready!  Tonight will also be the volleyball night a Eleni's house so stay turned for details!
Overall we have a great week I had with quite a bit of variety. We have benchmark workouts, he will work out, weightlifting pieces, and some good accessory work. As mentioned above you may notice that we will be adding in some scale variations of a lot of our workouts to help you make those scaling decisions easier and hopefully get the most out of your workouts! I hope everyone had a great weekend and is looking forward to a solid week of training! See you all in class…
~Daniel