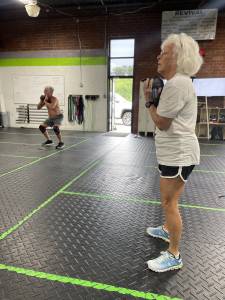 Hey guys,
      What a beautiful Sunday here in Burlington North Carolina. An amazing day to get outside, get some sun, and read this week's CrossFit Simplicity Weekly Rundown! We have an awesome week coming up with lots of great workouts for you guys. This will be week six of our strength cycle and we have a really cool "dog" theme for our workouts. (Coach Chase is going to be particularly excited about Tuesday!) let's dig in below and see what we have in store!
New Fall Gear: We will be working on some new fall gear for you guys so be on the lookout!
Monday: We are going to kick the week off with some snatches. You guys will have 10 singles working from 65% and increasing with each rep. We don't want to go any higher than 90% today. after this we are going to hit "Golden Retriever" This is going to be multiple sets of a short row and lots of light power snatches. Stimulus here is moderate to high intensity. Do you want to use your rowing portions as recovery so that you can attempt big sets on the power snatches. The weight should be on the lighter side today so do not go to heavy amidst the stimulus. This workout is going to get very grippy so a relaxed grip on the rower and utilization of the hook grip on the barbell will help you out in the long run. Easy day!
Tuesday: "German Shepard" is on the menu today! This is going to be three different AMRAPs. Ranging from 3 minutes to 9 minutes. Reps of each movement will increase depending on the length of the AMRAP. Movements today will be running, double unders, and wall walks. Stimulus here is steady pacing across all and wraps. Intensity will lower slightly as the AMRAPs get longer but you guys should focus on maintaining the pace you start with at the beginning of each AMRAP and avoid pushing too hard on the wall walks so that burn out doesn't happen. Remember quick transitions today so keep your equipment close and get right to work!
Wednesday: Today we will be doing clean and jerks in the same fashion as our snatches on Monday. 10 reps where you will start your first rip at 65% and build across each rep but no higher than 90%. These are squat cleans and push jerks. "Rottweiler" Will be a leg heavy piece consisting of 50 wall balls, 200 foot front rack dumbbell lunges, and then 50 wall balls to finish. Stimulus is moderate intensity with a chipper style approach to this work out. You guys should complete reps in strategic sets to avoid burn out and keep moving consistently. This one's going to come down to who is willing to suffer. This will be a very leg heavy piece so be smart with your sets!
Thursday: we have a partner work out today called "Dachshund." This one's going to be five sets, each is a three minute AMRAP, consisting of synchronized wall balls, synchronized box jumps, and then max reps of power snatches in the remaining time. You and your partner will have a three minute rest between each set. Score is simply the number of power snatches in each round. Stimulus today is going to be steady pacing between partners so that you can maximize your effort and time that can be applied to the power snatches. Make sure you work at a pace that works for both partners to earn some time on the barbell.
Friday: "Poodle" is up today! This is going to be 10-20-30 reps of toes to bar, hang power cleans, and bar facing burpees. This one can be a burner! Stimulus today is definitely higher effort. You guys should try to ramp up the pace and see if you can fight hard until the end. This workout will test your grip capacity and ability to push with high intensity. The tens go by fast, so stay steady and don't empty the tank until the final set of bar facing burpees. Just stay moving!
Saturday: We have a fun partner workout today called "Pug." This one is going to be multiple different couplets. Each couplet includes a row but the 2nd movement changes. You will have strict handstand push-ups, front squats, and push press. Nothing is super heavy today so try to go after some good sets. We are looking for a consistently sustained high intensity across all three workouts. After the first couplet the intensity should start to increase a little bit since the strict handstand push-ups will be the most difficult of any of the movements coupled with the row. These workouts are meant to be fast to really try to send it with your partner!
      That's all we got for this week's installment of the CrossFit Simplicity Weekly Rundown! It truly is looking like an amazing week with some really great pieces that will get you guys some great results if you show up with a good attitude and ready to put in a solid effort. Remember that consistency is key and the longer you are consistent the more consistent your results will be. Consistent for a week is good, consistent for a year is better! We can't wait to get in here and get moving with you guys. Now enjoy what's left of your weekend and get plenty of rest, relaxation, and recovery so we can hit it hard on Monday. See you in class!
~Daniel