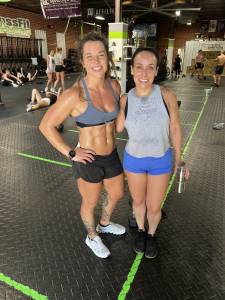 Hey guys,
      It's Sunday here in Burlington North Carolina and that means it's time for another installment of the CrossFit Simplicity Weekly Rundown! This week is going to close out the month of September and begin the month of October. It's always an exciting time to keep moving forward and look into some new goals. The main one being staying consistent! Lucky for you guys this week is going to be easy as "pie." Which is also our theme! This is the last week of our strength cycle before we test. This is week seven! So let's dive in and see what we have in store.
New Gear: The votes are in! We are doing maroon hoodies and burnt orange short sleeve sweatshirts!
Monday: we are going to kick off the week with some three position snatch work. Remember this is one from the high hang, one from the hang, and one from the floor without dropping the bar. After this we will get in three singles of an overhead squat at 90% of your one rep max snatch. Then it's time for some pie! "Key Lime Pie" is a 10 min AMRAP of 10 kettlebell swings and 10 box jumps. Stimulus is steady pacing across the entire 10 minutes. Find an intensity that you can maintain across all rounds. Make sure you check the clock on your first round to give you a good idea of what you should aim for in the following rounds. Just focus on breathing and keeping the body as relaxed as possible and not redlining!
Tuesday: She's my….? "Cherry Pie!" This is going to be three sets of calories on the rower and burpees over the rower. You'll have a one to one rest between each set. Stimulus is steady pacing across all sets with the goal of scoring similar times on each set. Begin with moderate pacing and you can begin to increase that pace as you get into the smaller rep numbers on each set. Transitions are everything on this one. Make sure you are getting in and out of the rower efficiently so no time is wasted.
Wednesday: Weightlifting Wednesday! We are going to have some three position squad queens followed by some heavy singles on the push jerk. After we finish this we are going to hit, "Lemon meringue pie!" This one is three different chippers. You will start a chipper at minute zero, minute six, and minute 12. Any time in the finish before the next chipper begins is your rest. Movements will get subsequently harder but reps will decrease. This is actually a really fun piece. You'll have a variation of push-ups, squat cleanings, and pull ups. Remember that variations get harder as we move on to each subsequent chipper.
Thursday: We have a very "interesting" day today. "Peanut Butter Pie" is a partner 5k. Distance can be split however you guys desire. Ideally we want the pacing and intensity to stay high, so make sure it's a distance or time frame that allows you and your partner to do so. Think about maybe 200m or 400m intervals.
Friday: "Pumpkin Pie" is on the menu today! This is going to be a tough little burner of 50 power snatches and then a 100 foot overhead walking lunch with the same bar. The weight is relatively light today and the stimulus is high intensity depending on your capacity in regards to shoulder endurance. If you're good in this area you should attempt large ambitious sets. If you're not as strong or confident with the high-volume shoulder movements then attempt smaller consistent sets on the power snatches. Make sure you stop before burnout is reached and chip away at the reps.
Saturday: "Mississippi mud pie!" We have a call team workout today. Teams of three will be working on a 24 minute AMRAP where one partner will be working for max calories on the bike while another partner is working through rounds of double unders, dumbbell hang power cleans, and dumbbell front squats…The last partner will be resting. You can transition from stations when the partner on the two round piece is finished. This one is going to be fun so buckle up and give it your best!
     That's all we've got for the CrossFit Simplicity Weekly Rundown this week! It's going to be a great week here in the gym and a good time to wrap up the month strong! Remember to get in here as consistently as possible so we can get some great results and get on that Committed Club board! It'll take a little discipline but you can do it! Now get plenty of rest, recovery, and relaxation so we can hit it hard on Monday. See you all in class!
~Daniel