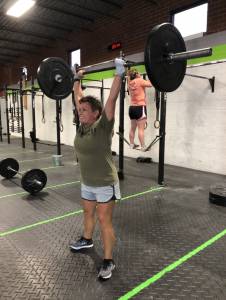 Hey guys,
     We kicked off NFL football this week and now it's time to kick off another week at Simplicity! Hopefully you all had an awesome weekend and are feeling energized to get in here and do some work. I want to take a minute to just recognize you all for all the hard work. We had a lofty goal for the committed club board in August and we ended up having one of the longest list of names we've had in a long time! It's not easy to come in here each and everyday. Life is busy, demanding, and it'll wear you out..but you guys keep making your fitness a priority and that's something to be proud of! Now let's see what we can crush this week…
Bring A Friend Day: Sept 28th at 9am with the always phenomenal DJ-LA providing the beats!
Monday: "The Possible EMOM?" Would it be Monday without it! We think not. So last week we had a fairly mild EMOM that you guys really did well on. This week will be a bit more difficult. We'll have double unders in the first minute, medball cleans in the second minute, and some moderate deadlifts in the last minute. Your jump rope minute will likely be your easiest minute and the one you'll want to try and catch your breath on. Conversely your next two minutes (medball cleans and deadlifts) will get your heart rate up so try to breathe and move as smoothly as possible. Remember on the medball cleans to fully extend during the second pull! If things get out of hand on this workout you'll want to drop the reps in each minute and try to stay moving!
Tuesday: Heavy day! And a serious leg day at that! We are breaking out all the squats: back squats, front squats, and even the hack squat. Our back and front squats will be triples and we are looking for 3 heavy sets. After these the hack squats will be in 3 sets of 10 to try to get in some volume. This seems like a lot of lifting and pretty time-consuming but once you warm up to your heavy sets of the back squats all you other lifts will be lighter in relation to your back squats so things will move a little faster. Do be sure to get ample rest between your heavy sets though (at least 2min). Overall this is going to be a fun day of lifting! Come in ready to get stronger.
Wednesday: Who enjoyed watching the CrossFit games this year? The cool thing about CrossFit is that it's hard for most of us to relate with an NFL football player or what they experience competing during a game… But in CrossFit we can relate with those top athletes. While we may not do the exact same weight we can achieve the same stimulus, and hitting a hard workout gives us the same feeling. That's what we will be doing today. We are going to be testing the CrossFit Games workout "First Cut." This one is 4 rounds of running, rope climbs, and squat snatches. Like the Games event this one will have a 20min time cap and reps you do not complete will be seconds added to your time. There will be a element of pacing here but there's still a lot of work to accomplish in just 20 minutes so you'll need to stay moving if you want to have a shot at finishing this one! I'd recommend quick, smooth singles on the snatches.
Thursday: Options today! I promise we are not programming this to get us a free day off on Thursday so please get to the gym and knock this one out! Everyone has their favorite areas of fitness but no one area is more important than another. Just like we have a great day of lifting on Tuesday we will have some good aerobic work today. You may take your pick between a 30 minute run for max distance or 30 minute row for max distance. Not much to say about this one in all honesty. You really just want to try to set a moderate pace and sustain it throughout the workout. If you can try to push yourself hard on the last few minutes.
Friday: CrossFit Games events are back again this week! And today we'll be doing not just one, but two! This is event 10, "Ringer" 1&2. We will try to keep things moving today because it would be nice to give everyone about 10 minutes between the first and second workouts. Each one of these will have a time cap. The first one is bike/rowing calories and toes to rings/bars, and the second one will be overhead squats and burpees to a target. These are designed to be very quick workouts… 5 to 7 minutes each so make sure you scale accordingly so that you can hit these with a lot of intensity and get the correct stimulus!
Saturday: We have a pretty cool kind of grunt work piece for you guys today! This will be a pretty good workout and nothing to get too worried about. Link most Saturdays this will be a partner workout so you'll be sharing the work between the two of you. Make sure to get in here today especially if you are looking to make the committee club this month!
      We have another great week ahead of us here at Simplicity. Lots of cool workouts and tons of variance this week. We have an all heavy day, an all aerobic day, and some cool CrossFit Games event workouts! Definitely don't want to miss out on any of these days so do your best to get in here. Again, great job last month and let's keep the momentum going throughout the rest of September! See you all in class…
~Daniel