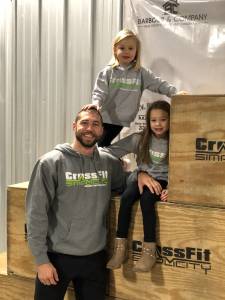 Hey guys,
       It's Rundown time again! We had an awesome weekend here at Simplicity with a great workout Saturday and one of our best Christmas parties yet! Now it's time to get focused on another week of some great training. We have some really good work planned out for this week with a good bit of variance that should keep things interesting and keep you engaged. Remember to try to get in here and much as possible so that we get a good dose of fitness! Now let's check out some announcements and get into the programming…
The Christmas Party was Great success! Thank you so much to everyone who came out and celebrated with us on Saturday! We had a amazing time!
Christmas Cheer gifts are due back to the gym by December 16th! They would prefer these wrapped and labeled with the persons name (and try to send back the tag you took Kern them) but if you can't wrap them that's ok as well! We are excited to say that ALL the tags have been taken! Thank you guys!
Monday: We have a parter workout to start off your week. That's right, a partner workout that's not on a Saturday! This one is very simple but can be tough if you and your partner push yourselves. We'll be doing bike or row calories from 50 to 10 (down by 10s). You'll row or bike 50 cal as fast as possible then rest while your partner does the same. Next you'll row or bike 40 cal and then rest while your partner does the same and continue this pattern until you each complete the last 10 calories. You'll really want to try to push the pace here on each effort because you'll be getting a solid rest while your partner. If we need to scale things back we'll turn this into an AMRAP where we work for shorter and shorter time intervals trying to get as many calories as possible.
Tuesday: Hero Day! This one is definitely one of the harder hero workouts so we won't sugarcoat it too much. Remember that we can always scale these back and this is usually a good idea to preserve the desired stimulus and to make sure we don't overdo it on our bodies and can hit it hard on Wednesday. This one is actually a great workout though with lots of cool movements. We'll have air squats, lots of power cleans, strict pull-ups, and 400m runs…and it's 6 rounds! You will definitely need to pace this out wisely so that you can still keep moving in rounds 5 and 6. The whole workout should be just smooth and steady with solid sets and probably quick, methodical singles on the power cleans. Definitely try your best on this because this will be saved as a benchmark work out for us!
Wednesday: We have a bit of different one  for you guys today definitely a good one. Lots of kettlebell work on this one including burpees over the kettlebell (which everyone is sure to love). We will have from front rack lunges, Single arm kettlebell push press, and the afore mentioned burpees over the kettlebell. The reps are relatively low here so think about going unbroken on all these movements and taking short rests between in your transitions. This one will be pretty taxing on the shoulders and legs so be sure to get a little recovery work in afterwards so we can keep hitting it hard the rest of the week!
Thursday: Lifting day! We'll be going overhead with some Jerks today. The focus will be on heavy singles but if you need technique work with this lift then feel free to maybe work some doubles or triples at a lighter weight to get some more reps and practice. Remember to keep a strong front rack position and a really tight core on these jerks. You want to make sure you have a good upright dip and a hard drive because much of the success and your jerks will come from that leg drive. Remember always to focus on pressing yourself under the bar and focus today on speed and foot position. After this will have some good accessory work with some barbell rows and Russian twists to round out the day! Good stuff!
Friday: we have a fun and challenging one for you guys today! This will be an interval workout like the few results back in November. We will have four 3 minute intervals of work broken up by a minute and a half of rest between each. In the three minutes you'll do as many rounds as possible of three squat snatches and 12 calories on the rower. The squat snatch weight is moderate here and not necessarily light so quick singles are likely going to be best. Keep a really strong pace on the road because we only have three minutes to get this work done so you'll need to make the most of your time! These rests are short too so expect to be breathing heavy by the last round!
Saturday: We have a fun partner workout for you guys this Saturday! This one had some great movements: heavy deadlifts, box jumps, pull-ups, and double unders! These will be short reps today so we'll actually try to alternate full rounds with your partner. This means you'll want to really push the pace when it's your time to work because you'll be able to rest while they knock out their round. The deadlift is heavy here today so quick smooth singles might be best. Have fun with this one and get your weekend started off right!
      It's looking like an awesome week of programming here at Simplicity. These are some really good workouts with lots of cool variety and even a benchmark WOD thrown in there! Everyone's been doing really great so far this December so keep up the good work and let's get those results! It's that time of the year where holiday temptations are around every corner so I feel like it's good to stay diligent in the gym so you can live a little and enjoy those special seasonal treats! Hope everyone's weekend was great