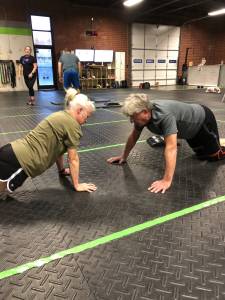 Hey guys,
     New month, who dis? Love it when these Weekly Rundowns fall on the start of a new month. Nothing like starting a new week and a new month on a Monday to really get the motivational juices flowing! That also means this is arguably the most important Monday of the month. It's going to set the tone for whether or not we show up consistently the rest of the week and the rest of February. As you guys may have noticed from Hodges Instagram post: "Consistency shows up when motivation is nowhere to be found." We have been pushing this theme of consistency with you guys over and over because it is the hallmark of seeing results and achieving success in anything you put your mind to. So let's get into the week setting a goal to be consistent and make a decision right now to show up whether you feel like it or not! Now let's dive into this week and our very cool Guardians of the Galaxy soundtrack theme! Featuring many of your favorite songs from the 1970s! (You know you'll be hearing these in class this week!)
Rowing Cycle: We will be running a little sub-cycle in the Next Level programming that you guys may want to take it vantage of outside of class. Sometime this week you'll need to test your max distance in six minutes on the rower. Then over the next two weeks you'll see some rowing workouts posted in Wodify that will use the numbers from this test. At the end it will culminate into a 2K row test! Join us!
Gymnastics Skills Class: Our next free gymnastics skills class with Stewart will be Sunday Feb 7th! Come brush up on all those skills and progressions!
Monday: Mr. Blue Sky please tell us why you had to hide away for so long where did we go wrong? I'm tired of this nasty weather but whether the sun is out today or not "Mr. Blue Sky" will be present in the gym today! We are going to kick off with some snatch work consisting of two snatch poles and two snatches. We will complete these as singles today if desired. There will be no set percentages for the snatch work so you'll be trying to build to something that is moderately heavy yet comfortable. We don't want any misses today. The snatch pull is an excellent way to prime the movement of the snatch and make sure we are getting that bar to the hip and making good contact. After this we will hit a partner workout called Mr. Blue Sky. You guys will work for 15 minutes where each partner will complete one rope climb and then you'll have to do 10 synchronized push-ups. We had some of these the week before last so you should be familiar with making sure you and your partner are locked out at the top of each rep. If we don't have a rope climb we will be working on strict pull-ups today or ring rows. Good stuff!
Tuesday: Listen to the clock go, 3-2-1 counts the time. Run to your rower, damn your burpees damn your thighs. And if you don't love CrossFit now you will never love it again. I can still hear you saying you would never make The Games! If you haven't guessed, "The Chain" is the workout for today. This one is going to be tough to say the least. You guys will have 10 rounds of row calories, alternating hang dumbbell clean and jerks, and burpees over the rower! The stimulus is going to be a little more moderate intensity today due to the high number of rounds. This is not a sprint type workout but more trying to set a pace and maintain it as you keep moving from station to station. The row should be something that's 70 to 80% effort so that you're getting work done but can still recover a little bit. You guys should be really familiar with the dumbbell clean and jerks as we had these just last week. When you get to the burpees over the rower be sure to stay moving and watch your feet going over the rower so we don't have any accidents. A good pace for today's workout is about a round every two minutes. After this we will have some accessory work of handstand holes and tempo goblet squats…smooth and controlled. Easy day!
Wednesday: Weightlifting Wednesday! Today we will be back on our cleans but mixing things up a bit. We will have some sets of two position cleans. This means each set will include one clean from the floor and then one hang clean. Noticed that this complex will be all unbroken. Do not drop your bar. Also we didn't see the word "power" which means all of these will be squat cleans. We want to work up to a comfortable moderate wait for the day. Focus on keeping those knuckles down, that chest up, and getting a good receiving position as you catch that bar in the bottom! After this it's time to surrender…but don't give yourself away! This one is hardly going to be a "cheap trick!" That's right, "Surrender" is going to be a tough one with lots of pull-ups, sit-ups and thrusters. This is going to be a strong gymnastic type workout with a serious gut check on the thrusters. The stimulus today is pretty high intensity with a push on the barbell to go unbroken or at least a minimal number of sets across rounds. Make sure you break up the pull-ups early and focus on getting your breath between each movement to keep going. We have a lot of pull ups today so this may be the first place you want to look for scaling options. The thruster is going to be a bit more of a moderate weight than we are used to so potentially think about dropping the weight here as well to hit the target time. Go hard and do your best on this one today!
Thursday: Brandy…you're not a fine girl today! "Brandy" is going to be a partner workout (the only saving grace here today) of Assault bike calories. We will have a descending wrap ladder of assault by calories to complete as a team. Each partner will complete each set of calories so you'll have a one to one work:rest ratio. Meaning I will knock out my first set of calories and then you'll immediately jump on and knock out an identical set of calories while I rest. After this we will go to our next lower set of calories and repeat the same thing. This is definitely going to be a moderate intensity piece but as the calories decrease we want to see an increase in your drive and your ability to hold a faster pace. Calories and intensity should be inversely related today. Bring your sea legs to class because you may be a little wobbly after this one! After this we will have some really cool accessory work consisting of some dumbbell bench, bicep curls, and glute ham raises!
Friday: And I knew, yes I knew I should run. But then I heard her say, yeah "come a little bit closer"… Don't run from this one today guys! "Come a Little Bit Closer" is going to be tough but not as tough as finding out you been dancing with Jose's girl! You'll have a chipper style workout today with a big row/ski, 50 devils presses, and then 200 foot of dumbbell front rack lunges. If you need a refresher YouTube devils press to get yourself familiar before class but we will demonstrate these in the warm-up. These are a tough move it because they are full body and they keep you in a compressed position under a load which can make it difficult to breathe. Make sure you swing the dumbbells between your legs and get a big breath of the top when you lock out. The front rack line just something we believe is going to present it's self in the open so we want to keep working on these. All in all this is going to be a good workout and we want you guys to try to keep a close to nonstop pace throughout the entire thing. Just think of steady state moderate intensity work. You're in this one for the long-haul so get tough and stay moving!
Saturday: Classic Cat Stevens for you guys today with "Father and Son." This is going to be a partner workout consisting of calories and gymnastics. You will have calories on the bike, handstand push-ups, and toes to bar. This will be broken into three couplets of bike calories and only one gymnastic movement. Similar to the partner workout we had on Saturday each partner will be responsible for each set of reps, yet one partner will be knocking out their reps on the bike while the other partner is knocking out their gymnastic movements and then you'll switch. Once each partner has completed the assigned reps for both movements that couplet will be over, you will get a short rest, and then begin the next one. This one's going to be fun and fast pace so have a good time and motivate your partner!
       It's a new week, new month, and a new opportunity to get consistent and start backing out those goals. Luckily it's the same old CrossFit simplicity atmosphere and environment it will lend a hand and keeping you going! You guys know I'm a fan of the classics so I'm super excited about our 70s music theme this week. If you want to listen to all the songs just search the Guardians of the Galaxy soundtrack and enjoy! But don't worry, each day we will be sure to play the song from that day's workout! Remember that the Open is right around the corner so be sure to get signed up and look for details of our intramural open we will be holding here at the gym to add an extra element of fun to these workouts. Also don't forget to head back up to the announcements and check out the details of the rowing cycle in case you're interested in doing that with us. Now, enjoy the rest of your weekend, get some good rest and recovery, and we can't wait to see you all in class!
~Daniel