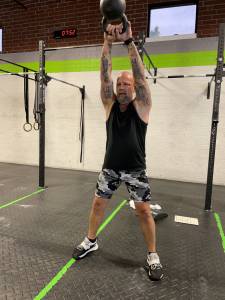 Hey guys,
       What a beautiful day in Burlington North Carolina and the perfect time to release another edition of the CrossFit Simplicity Weekly Rundown! Things have been going really well with our current strength cycle and we are rolling into week five. Just as a heads up this is going to be our most challenging week of the entire eight week cycle. Percentages are heavy and the reps are on the higher side so make sure you get gritty and take a little extra rest between sets if needed. Our theme this week is kind of twofold. We're actually going to be doing some modified variations of some of the CrossFit games workouts but our workout name theme is all songs you guys might recognize from the 2000s punk playlist. It's going to be a fun and challenging route overall and an excellent time to get some solid results so make sure you're in here as consistently as possible! Now let's check out a couple announcements and dive in!
Bring A Friend Day: Our Bring A Friend Day went amazing Saturday and we want to thank all you guys who came out and also DJ-LA for providing an awesome atmosphere! Our next one will be held September 25 at 9 AM so save the date!
Coach Maryann: We are happy and sad at the same time to announce that August will be coach Maryann's last month coaching here with us. Congratulations to her on an awesome new promotion at work! Fortunately for us you will still be seeing her in the gym but she'll be on the other side of the whiteboard for a while! If you have her in class this week be sure to let her know how grateful we all are for all her hard work and energy over the years! Thanks Maryann, we love you!
Monday: As we mentioned above, this week is going to be our hardest week of the eight weeks strength cycle so buckle up and get tough! We are going to kick the week off with back squats. We will have four sets of six back squats at 80% today. This is going to be challenging so take a little extra rest if you need it. Remember that position throughout the range of motion is going to be extremely important. Keep that core tight and that chest up! After this we will be hitting a play on one of the CrossFit games workouts. "Rollin" will be A couplet of toes to bar and running. Stimulus today is moderate to high intensity. The total bar effort should be kept moderate to avoid burnout on this movement while running should be consistent regardless of the increase or decrease of distances. This is basically a lighter version of the games work out that will help us to remain within the class timeframe. Really have fun with this one and it will give a little perspective on just how amazing those games athletes are! Just like you guys!
Tuesday: Lifting first today as we dive into some shoulder presses. Just like our back squats we will have four sets of six reps at 80%. Remember we want absolutely no legs or hips in this movement. Totally strict as we press. If this means you need a little extra rest or have to drop the weight still maintain proper movement standards. After this we will strip things down for "Headstrong." This is going to be a fast paced workout of calories on the bike and power snatches. We will have 21-15-9 of both movements. We want you guys to push the pace on the barbell and focus on attacking the bike. Heart rate is going to be high during this workout but keep chugging along. Make sure you select a power snatch weight that is around 40% of your one rep max. You should aim for touch and go reps while looking to break into 2 to 3 sets with this weight. The hard part today is going to be picking the bar back up once you drop it due to leg fatigue. Don't stand around too long feeling sorry for yourselves but really get after it and fight till the end!
Wednesday: taking off weightlifting Wednesday with our deadlifts today. Just like the other movements we will have four sets of six and the weight will be challenging at 80%. Really brace yourself and drive through the floor as you lift the bar. Make sure we don't jerk the bar from the ground but rather keep a smooth pull throughout. After this we'll be hitting "Last Resort." This is a bit of a scaled down version from the wall walk thruster piece at the games. This one was spicy so make sure you prepare yourself and break things up accordingly. Reps will descend from 10 to 2 by increments of two on each movement. We are looking for moderate intensity across this entire workout. You you want to find a steady pace across all movements and try to maintain. The key will be to adjust pace down to avoid shoulder failure. While walks add up quick so remember not to push through failure and always meet the standards. The thruster way today should be challenging but doable. Think about and weight that allows you to knock out your sets of 10 and eight in no more than two sets. Push yourself on this one but be smart with your scaling and have fun.
Thursday: Floor press today! Finally our floor press reps are going to be meshing with our other lifts. You will have four sets of six reps today as well. The difference will be that you will select your weight. We want something challenging but doable! When we wrap this up we will be going into a partner workout today which will be a lot of fun. "Sugar We're Going Down" it's going to be an 18 minute AMRAP of burpees to a 6 inch target, power cleans, and rope climbs. The layout today will be "You go/I go." This means you will complete one full round while your partner rests and then you guys will switch. Stimulus for this one is definitely high intensity. You should focus on moving fast while being aware of recovering your breathing during the rest periods in preparation for the next round. We want both hands to make contact during the burpees to a target and the power clean weight should be somewhere around 70% so that you can move these reps quickly. If you're not feeling rope climbs today we will sub for strict pull-ups or ring rows. Have fun with your partner on this one!
Friday: we are taking a break from the weightlifting today but we do have a challenging work out for you guys and we are going to do something a little fun with this one. A lot of you guys know our resident gymnastics expert Stewart Spanbauer…he actually has a really cool Instagram account called "Handpicked WODs." (Follow @handpicked.wods for some cool workouts!) Today's Mayhem affiliate piece is actually extremely similar to one of my favorite ones Stewart programmed on his account a few months ago. So what we are going to do is offer Mayhem affiliate version today as the RX version and Stewart's work out as the RX plus version. You will see why just a second. "In The End" Will be 150 wallballs. Every two minutes you have to break and perform 35 double unders. And the kicker is that the workout starts with double unders! Stewart's version is 200 wall balls and every time you break…Not every two minutes…You have to perform 50 double unders. Also beginning with double unders. Stimulus today is definitely going to be moderate to high intensity and you guys will need to find a steady rep count on the wallballs to help finish around your target time. The goal is definitely going to be high reps on the wallballs without over resting during the breaks. Make sure you move until around 10 seconds before the start of the next two minutes to avoid lost time and to get a little rest. Good stuff!
Saturday: Saturday's at Simplicity are always partner workouts and today is no exception! The theme of today so definitely "synchro!" "Fat Lip" Will be descending reps of synchronized kettlebell swings, synchronize abmat sit ups and then calories on the rower. This one is definitely to test how well you guys can listen and communicate with one another. You guys want to sync up with each other and have some smooth moderate pacing. After this distribute the work load accordingly on the rower to keep the intensity. Just have fun with this one and encourage your partner! Easy day!
     Well, that's all we've got for you guys on this gorgeous Sunday! We have a super exciting and packed week with lots of great workouts and lifting to keep the results rolling in. You guys have really been crushing it lately and the atmosphere in the gym has been awesome. Let's keep pressing forward hard as we wrap up the month of August and attack our hardest week of the strength cycle yet. Keep getting in here consistently so that we can realize our current goals and keep setting new ones! Now enjoy what's left of your weekend and get plenty of rest and relaxation so we can hit it hard on Monday. See you all in class!
~Daniel