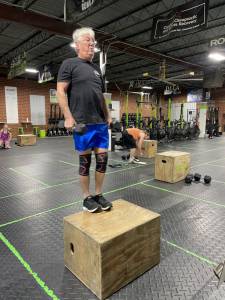 Hey guys,
      We went from sun to snow, but regardless, it's time for the show! It is Sunday and time for the CrossFit Simplicity Weekly Rundown! We have an awesome week in store for you guys so get excited. We have been building through this eight week cycle and now it's time to finally retest all of our one rep max lifts. Make sure you pay attention to what days we are lifting below and make sure you attend class those days. Apart from that we also have some great conditioning pieces lined up for you guys so get in here and let's put in some work!
Congrats to our CFS athletes advancing to the CrossFit Games Quarterfinals: Amanda Hodge, Breann DiMarco, Nick DiMarco, Justice Yates, Nick Boudreau, Stuart Spanbauer, Jimmy, Reyes, and Daniel Blackwell. These guys will be competing this week so wish them luck and cheer them on if you see them in the gym!
Weightlifting:
Here we go, Week 8 begins (Last week), and we are hitting some heavy singles. For most, this will be like a max, but for newer athletes, be cautious to avoid adding weight if consistency and form begin to fail.
Week 8 (March 13) (Max Week)
Mon: Heavy Single Bench Press
Tues: Every minute (10 minutes) 5 Power Snatch (+15lbs from Wk 2)
Weds: Heavy Single Deadlift
Thurs: Heavy Single Back Squat
Workouts:
This week is full of good workouts that will attack you in various ways. Monday's is a spicy, 5-round triplet looking to challenge you on pacing and controlling your heart rate. For Tuesday, we have a challenging workout for you where you can try numerous strategies to attack and maintain a solid pace. Grit and Grind will be the theme for Wednesday's descending couplet, try and hold a pace and fight hard till the end. Thursday is no slouch, and you will be asked to move swiftly through the box jump overs and see how your core handles the stick sit-ups. Friday, we have a throwback workout for everyone that is the classic "just move" and get a good sweat in. Saturdays workout is fun for athletes looking to move some heavy weight; it starts off smooth and will hit you like a sack of bricks on the second set. Good stuff!
    Well that's all we've got for this installment of the CrossFit Simplicity Weekly Rundown! It's looking like another excellent week here in the gym so be sure to show up and show out. You guys have been killing the consistency game, so don't stop now. Remember that dedication is stronger than motivation. Some days you might not have the motivation but the dedication will pull you through. Stay consistent and keep things fun. Now get plenty of rest, relaxation, and recovery so we can hit it hard this week. See you all in class!
~Daniel