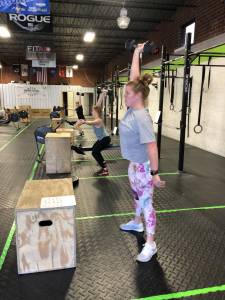 Hey guys,
       We are back! And what an awesome and special Weekly Rundown we have for you guys today. It's the start of a new month, a new week, and a new chapter for CrossFit Simplicity. I feel like we've all just gone through this shut down experience for the first time together and I believe we will come out stronger as a community on the other side! I know for me personally this experience has just filled me with even more gratitude for you all as our friends and members of our community and has taught me not to take for granted the opportunity we have to workout and increase our health and wellness. Hopefully everyone is feeling a renewed sense of energy, passion, and motivation to get back into the gym and continue working on improving our lives. We have an awesome week ahead of you guys and we are going to kick things off in a spectacular fashion with some great workouts!
We will be limiting classes to 12 members and we ask that you please register for your in advance on your Wodify app.
Please be diligent about washing your hands before and after class and taking personal responsibility to thoroughly clean and sanitize all the equipment that you touch. You will notice extra hand sanitizer around the gym to help you as well!
We have new shirts on sale at the gym for $20! Ask your coach if you'd like to get one!
Remember our "Quarantine 15" deal where you can invite a friend or family member to get 15% off their first month at CrossFit Simplicity and also earn yourself 15% off your next month when they join!
Monday: Let's be honest, maybe some of us have done a great job, but for others our fitness might've slipped a little bit during quarantine…So we're going to ease back into things with a little bit more of a weightlifting day since many of you guys have missed touching a barbell, yet we will also throw in a little bit of conditioning to get you back into the swing of things! Today the focus will be on the snatch. We will start out building to a heavy single on our power snatch and then have a short four round conditioning piece consisting of some running and more snatches. It's a great day to get back in here in front of a coach and get some good instruction and technique work on your lifts!
Tuesday: Now we are going to switch gears from the barbell today and focus on a little more conditioning. We will be looking for calories today as we tackle four 4 minute intervals on the bike or rower…each one looking for max calories. The kicker is that you'll only be given one minute of rest between each round so there must be some element of pacing because one minute it's not a lot of time to recover after a four minute piece. Try to stay consistent here and push yourself to be uncomfortable during each one of these intervals so that you get the most out of the workout!
Wednesday: Chipper! We have a great one for you guys today with A couple movements we haven't seen in quite a while. The constant here will be the 400m run. You will have one of these runs before every movement in this chipper. So we'll start with the 400m run and then the movements you have will be back rack reverse lunges (from the floor), single arm kettlebell snatches, and Turkish get ups! Once you get through these barbell lunges everything else today will be either a run or a kettlebell movement. The movements shouldn't give you too much trouble but the runs can certainly add up. Be sure you pace these out strong but not so strong that you can't get right on your barbell or kettlebell when you enter the gym. Good stuff!
Thursday: If you've been following our YouTube WOD brief series over the quarantine then lately you've heard me talk a little bit about changing up our Thursdays and making them longer more aerobic pieces with the goal of increasing our aerobic power, aerobic capacity, and cardiac output. These might look a little bit intimidating to begin with but just understand that this is going to drastically increase your overall level of fitness and make you a much better and more capable person across all of our workouts. Also remember that just like any other day it's possible to scale and modify these workouts to fit your current fitness level. We are going to start with an aerobic power test that will be stored in our system and one that we will retest in a couple months. The first one will consist of three minute intervals where you'll be trying to work about as hard as possible…That's where the power comes from… But then we will take a five minute rest so that you'll be able to almost fully recover and hit it hard again during the next three minute interval!
Friday: Heavy day! We have front squats on the menu today and a really cool wave style rep scheme. We will be doing a set of five and a set of one for three rounds (5-1-5-1-5-1). The idea here is not to go too heavy on the first set of one but rather pick something you think you'll be able to hold across all three sets. The loading will likely increase slightly on each set of five as you warm up and because the set of one will make your next set of five feel pretty light! Have fun with this and focus on a nice upright position and full depth below parallel!
Saturday: This is our first Saturday back in quite some time and we are very excited! We will likely run two classes, one at 8 AM and one at 9 AM to try to accommodate more of you guys and still limit our overall numbers so stay tuned for specific details as the week moves on. Today's workout will have a buy-in and a buy-out of an 800m run and then inside of those runs you'll have some descending reps of deadlifts and bar muscle-ups. This is going to be a great conditioning and strength building workout with some gymnastics thrown in as well. It doesn't get much better! Good stuff!
     Overall we just have an awesome week planned for you guys and we are so excited to be back together working and motivating and encouraging each other toward our goals! We have so missed this community but we know that we will return stronger and more united together. We know that things might be a little different in class and we encourage you guys to work with us and help us make CrossFit Simplicity a safe and clean environment for us all to enjoy. As always, remember that consistency is key to getting the results that you want so let's jump right back into building good habits and showing up each and every day! See you all in class!
~Daniel