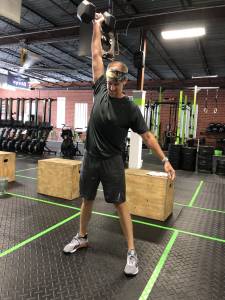 Hey guys,
       We had another awesome week at CrossFit Simplicity and we can't wait for this next one with you guys! The atmosphere in here has been so amazing, uplifting, and encouraging! It's no secret that we have jumped back into things full swing and are not taking it easy in these workouts. It's time to get back to work! You guys have been doing an amazing job rising up to the challenge and giving these 100% effort each and every day! In just the short two weeks we've been open we've already seen a ton of improvement so let's keep it up! Remember not to skip these Thursdays! now without further ado, your workouts…
Murph will be held June 27th! We cannot wait to do this memorial hero workout with all of you guys as we honor and recognize all those who have served and given the ultimate sacrifice to defend our freedom's here in America! We will have 7am, 8am, and 9am heats to beat the heat!
Our aerobic Thursdays have been going amazing! Remember that these first three weeks are test weeks so please don't miss this Thursday!
T-shirts on sale at the gym for $20!
Monday: Love starting out the week here with a weightlifting day! That's exactly what we have for you guys. We are actually going to be working the three position snatch as well as the three position clean with a jerk after the last rep. The goal will be a little more technique driven as we will be trying to limit the weight you use to around 75% of your best snatch or clean and jerk respectively. Working on three position Olympic lifts really helps dial in technique at each phase of the pull. Also working top down allows us to build good movement patterns so really focus on technique today over weight! good stuff!
Tuesday: EMOM in the line up today and this is a good one! This one will be on the longer side, 20 minutes, and will alternate back-and-forth between a barbell complex for one minute and a round of Cindy for the next minute. The barbell complex will be three deadlifts, three front squats, and three push press. We will have a prescribed weight today but base your loading on what you think you can hit unbroken in about 30 seconds…the push press might also be the limiting factor. When you get to the round of Cindy I would suggest pacing this out to take up the majority of the minute so that you keep your heart rate low and ready for the barbell. This will be a fun piece so really dive into it and give it your best.
Wednesday: We have a really cool three-part workout for you guys to get you through the middle of the week! This will be three different workouts, all with a time cap, and all with five minutes rest in between each one. Because we will have a time cap and you want to make sure you get the desired stimulus it's going to be very important that you look at each one of these workouts honestly and scale where necessary. The first one will consist of some wallballs, pull-ups, and handstand push-ups. Then we will flow into a hang squat clean and burpee over the bar couplet, and finally round out the day with a double under and push jerk piece. This is certainly a day with lots of variance and fun so don't miss it!
Thursday: This is our third week of our new aerobic testing and our last day for an actual test that we will rescore in the future. Today's focus will be cardiac output. We will be seeing what your potential is to hold a steady state for an extended period of time. Today's workout will be 40 minutes long! You have four individual 10 minute windows that will run back to back to each other. You'll have a certain task to complete within each of these windows. Any time remaining will be yours to rest. Tasks will include running, burpees, rowing, and box jumps. Come in here ready to work and let's get a good score in the board that we can reference down the road!
Friday: We have a cool little 21-15-9 piece for you guys today! This one's going to be back squats, bar muscle-ups, and row/bike calories!  The bar will be from the floor today which will limit you to some extent on the way you'll be able to use. Although this should definitely be a weight you can clean and jerk if we are going for the desired stimulus and time domain. If you have to scale the muscle ups back then go for your hardest pull-up variation. This one's going to be a great all-around work out they should keep things interesting to wrap up the week.
Saturday: As always we have a great Saturday workout plan for you guys! We always say these are the best days of the week at CrossFit simplicity and it really is true. If you've never been with us for a Saturday definitely try your best to make it as this is where all of our classes throughout the week combined and you can really get a sense of our full community. Today will be a day with lots of barbell so you know it's going to be legit!
       It's shaping up to be another excellent week here at CrossFit Simplicity! These workouts have been awesome and you all have be putting in some serious work. We have to keep this up as we move into summer. Let's continue to keep encouraging and motivating each other as we work towards our goals and get back into the swing of things. Attendance has been excellent and that's going to go along way in helping you see those results! Now enjoy the last part of your weekend and we can't wait to see you all in class!
~Daniel