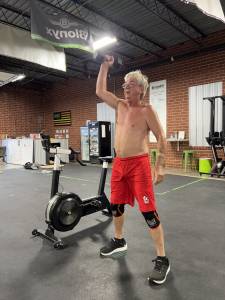 Hey guys,
      It's Sunday! Time for the CrossFit Simplicity Weekly Rundown! As I mentioned last week we will have a bit of an abbreviated version of the Rundown for you guys today and will be back to our normal full length Rundown the week of July 3rd. We have a great week ahead of us as we wrap up the month of June and roll right into July. We have a fun "Texas" theme for you all and the continuation of week four of our straight cycle! Make sure you get in here as much as possible on these lifting days so that we make the most of this current program! Now let's have a brief look at things ahead.
Weightlifting: Week 4 (June 27)
Day 1: 1 In the Hole Front Squats + 1 Front Squat x 5 sets @75% of 1RM / 2 Strict Weighted Pull-ups x 5 sets @70% of 1RM
Day 2: Build up to 1 Bench Press @85% of 1RM in 5 sets / 3 High Box Jumps x 5 sets
Day 3: Build up to 1 Deadlift @85% of 1RM in 5 sets/ 50% Strict Handstand Push-ups of Max Reps x 5 sets
Workouts:
This week's workouts start hot and stay that way. Monday will focus on being strategic and pushing hard from the start. We have another significant cardio/high-skilled interval that will test pacing and grip on Tuesday. Wednesday will be a version of the Syndicate Competition "Skiing with Karen." Thursday is just a classic amrap triplet with consistent pacing throughout, and finally, we hit Friday with a very aggressively fun partner throwdown.
     It's shaping up to be another epic week here at CrossFit Simplicity! As I mentioned this will be the last week of our abbreviated CFS Weekly Rundown so thank you guys for your patience and bearing with me. You all have been doing really well in class and we have been seeing tons of consistency and progress with your lifting as well as your conditioning. Remember to keep up the good work as we close out the month. I hope everyone had a great weekend and got plenty of rest and relaxation so we can hit it hard on Monday. See you all in class!
~Daniel