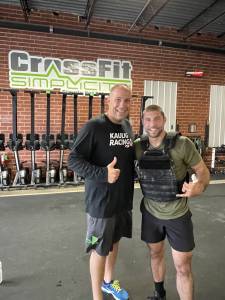 Hey guys,
       If you're reading this you know exactly what time it is! Time for another fast paced, heart thumping edition of the CrossFit Simplicity Weekly Rundown! This one is going to be bumper to bumper with gym news and details, insightful workout strategies and tips, and so much more. From the green flag Monday morning to the checkered flag Saturday we are going to do nothing but work hard and better ourselves here at CFS. If you haven't guessed it this week's theme is all NASCAR! Love it baby! As always we're going to have lots of great work out for you guys filled with tons of variance in Ferrari as well as the continuation of our Olympic lifting cycle. This Olympic lifting cycle has been prominent focused on position, form, and technique and will now beginning to get a touch heavier. Remember to get in here consistent Lee so that we can drill the skills and continue to improve! Let's have a quick look at some announcement and then dive in…
Bring A Friend Day: Our next Bring A Friend Day with DJ-LA will be June 19th at 9am! Tell all your friends and let's have an awesome event!
Water Bottles: If you have not gotten your free CFS water bottle then be sure to stop by the gym for your next class and pick one up. This is just a small token of our appreciation for you guys and all you mean to our community!
T-Shirts: Most of you guys have picked up a T-shirt, but if not we still have some sizes available at the gym for $20. Please reach out to me or email me if you did not get a large T-shirt and would like one!
MS Strong CrossFit Event: Our very own Tiffany Light is hosting an event right here at CFS to raise money and awareness for MS! This is going to be a fun CrossFit event Saturday, July 24th at 9 AM! This event is for all levels of fitness so invite your friends! It's $25 to register and all of the proceeds go to the MS Run Organization! (Oh yea…and DJ-LA will be here!)
Monday: Opening up the week with a current NASCAR staple in the cup series: "Ricky Stenhouse." This is going to be a tough one on the legs today and things are definitely going to get gritty! You will have two sets (each one 21-15-9) of double kettlebell front squats and assault bike calories. There will be a one to one work rest ratio in between each set. Stimulus today is moderate to high intensity with a real mental push! The goal honestly today is to come out strong… Not crazy…and maintain. You will start with the squats which means you'll be fresh. Use this to your advantage! The goal will be to go unbroken for each set. Obviously the legs will be a little rough coming onto the bike so we recommend coming out with a hard 5 to 10 second sprint and then settling into the rest of the calories. After this we're going to have a little bit of snatch work consisting of a snatch deadlift to mid thigh and then a full squat snatch. Remember to use this snatch deadlift to prime and build good positions and then hit those same positions as you follow through with your full snatch. Focus on proper form today and let that be your guide for how heavy to go on these. Easy day!
Tuesday: "Chase Elliott" is going to be a bit of a pump day! We are going to be working through some descending reps of dumbbell floor presses and toes to bar! This is actually always been a favorite combination of mine for a great chest and shoulder pump. The dumbbell floor press will get the chest nice and tight and then the toe to bar kip swing will open that chest back up with a stretch and get some blood flowing in there. This one is sure to get you going so break up the reps early and often if you need to. We want moderate intensity today with smart rest. Have fun with this one! We will have a fun power clean and jerk complex after this work out. Today will be a power clean, a jerk dip, and then a jerk. We have really been working this jerk dip a lot in an attempt to make sure you guys are setting up your jerk drive properly and maintaining a good position through that entire range of motion. We are looking for three moderate to heavy working sets today so really go for it if you're feeling confident!
Wednesday: It doesn't get much better than this! I am convinced there's no more iconic figure than Dale Earnhardt himself! That's the workout today so we want you guys to really give it your best and honor this true American hero!  Now try your best not to get "intimidated" by this workout… this one is going to be two sets, one every 10 minutes, of a calorie row and lateral burpees over the rower. Intensity today should be moderate to high. Just like Dale Earnhardt locking into a groove on the race track we want you guys to find a good pace on both movements and lock in for the duration. Really put your head down and get to work on this one. Especially push the pace on the burpees and keep moving! After this iconic work out we are going to round out the day with our front squat/back squat complex. Today's going to be a little different as we will be following some percentages. We want you guys to get five sets of one front squat plus two back squats at 80 to 85% of your one rep max front squat. Warm up to these weights and then get to work! Remember there's no rest between the front squat and back squats! Good stuff.
Thursday: We have an awesome partner workout for you all today with "Harry Grant!" This one is going to be all core and posterior chain! You and your partner will be working through three separate rounds of deadlifts and GHDs/Sit-ups. Each round the reps will be cut in half but the deadlift weight will increase. Also, one partner will have to hold a plank on their elbows anytime the other partner is doing GHDs/Sit-ups. This is going to get the core lit up so be strategic about how you break up these reps with your partner. This is also going to make the deadlifts difficult so be sure to brace your core well on the heavier weights and don't go to failure. Weights should be roughly 40/60/80% respectively for each round. After this partner piece we are going to hit some snatch waves. We'll be workin from the hang right above the knee today and we want you guys to really focus on good positions and really staying over that bar until you sweep back to the hip. Make sure you don't open up until you are nice and upright in your power position and then get a big hip/leg drive and pull under the bar. We are going off percentages today so stay within these and get some good work!
Friday: So depending on how you grew up today could be your Earnhardt day…for me it's Dale, but for you maybe it's Jeff Gordon! "Jeff Gordon" will be a sweet little chipper style workout with lots of fun movements. We'll be working through chest to bar pull-ups, box jump overs, and thrusters. The reps are relatively low on this one so we want to really push the pace here and keep moving today. We want you to come out guns blazing and keep the stimulus high intensity! Pull-ups need to be done in 1-3 sets max and you need to head right to the box jump overs. The thruster weight is heavy but we want unbroken here. Remember we are taking about high intensity/full send today so get after it! Next today we'll run some power clean and jerk waves to finish off the day. Like the snatches these will be based off percentages and the goal is to stay within these and get crisp clean reps!
Saturday: Just like last week was have workout that was not particularly designed as a partner workout that we are going to adapt and make into a partner piece! " Bobby LaBonte" will have double unders, strict presses, and burpees to a target so get ready for a fun and challenging partner workout today! Show up at 9am Saturday for all the details!
       That's all we've got for the CFS Weekly Rundown this week! Obviously it's going to be an amazing week chalk full of variance and variety sure to keep you entertained and your body guessing! As always be sure to stay as consistent as possible so that we can keep getting the results we want and continue to grow and improve! We are super excited about this NASCAR week and we hope you all get plenty of rest and relaxation so that we are ready to hit it hard in here on Monday!
(Also quick shoutout to Chris Rice and Kaulig Racing for a big win from AJ Allmendinger and P2 from Justin Haley at Mid-Ohio this weekend! Fitting for our NASCAR theme this week!)
~Daniel