CFS Weekly Rundown (7/16-7/21)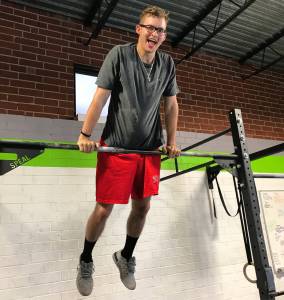 Hey guys,
It's time for another great week of training at CFS! First off, great job last week. As we mentioned we'll be continuing to sprinkle in some Hero workouts throughout the rest of this month. Last week we saw three and you all really hit them hard. I can't remember a group of CrossFitters that gets as excited about Hero workouts as you all do! It's important to remember that while these are Hero workouts, and many of them are pretty grueling, they are still just a workout and should be scaled and used to get the proper stimulus. This week some are long and some are short, but all of them are pure CrossFit! Here we go…
Monday: kicking off the week right with one of my favorites: "Randy!" This is a fast paced sprint workout with one movement only: snatches. This one will test your grip strength/endurance and your mental toughness. The weight is light here so let's look for big sets with short rests between to keep the pace as high as possible! Touch and go muscle snatches may be a good option here for those of you with a little more experience.
Tuesday: We have a bit of a different weightlifting day here but one that we think you'll love! We will be transitioning from a heavy Front Squat, to heavy Push Press, and then to a heavy Thruster. So we are basically building the thruster step-by-step. Each movement will get 15 minutes to work to heavy single. Don't put a lot of pressure on yourself and really come into this one looking to have some fun and move a little weight!
Wednesday: Hump day Hero's…kind of has a ring to it… The Hero WOD this Wednesday: "Jerry!" This is a really good one in terms of pure conditioning and building aerobic capacity. Be sure to wear you're running shoes for this one!
Thursday: Thursday is probably one of our hardest days this week. But don't let that discourage you! We have a great workout planned that will really hit the entire body. "The Seven" is one of the more popular Hero workouts, and for good reason. This one will test you in a variety of ways so pace this one out and remember to scale for that stimulus!
Friday: We have a short one to start off your weekend…but a good one! This is a quick two round sprint with rowing and back squats! The tough call on this one will be whether to break up the squats or not. Either way you'll want to push the pace on the row and give it all you've got!
Saturday: Our last Hero workout of the week, yet still a partner workout. We'll hit this like "Hall" last Saturday where we alternated FULL rounds with a partner until each has 5. Though instead of "Hall" we'll be tackling "PK!"
It's looking like a great week! Remember to start committed and keep checking on the goal board as a reminder to yourself of why you come in here each and every day. I'm proud of you all…while you're in here a lot of people are sitting at home! Give yourself a nod then let's get to work and keep paying The Man!
Best,
~Daniel