CFS Weekly Rundown (8/27-9/1)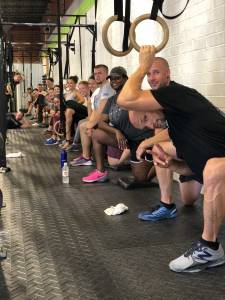 Hey Guys,
        Another great week waiting for you all here at Simplicity! We've had some excellent workouts lately and some excellent effort on behalf of you all. Thanks to everyone who came out to practice yoga with us at feel better Burlington yoga this afternoon (Sunday). We had an amazing class and we hope you all are going to feel much better as you start your week tomorrow. Also, don't forget to save the date for our very first in-house competition October 27 at 8 AM. Signing up for this is a great way to experience your first competition and will also give added meaning and motivation to your training over the next two months!
Monday: Starting the week off with something a little different. We'll have a good mix of pushing and pulling in this workout but there is also a twist. At the top of every minute you'll have to stop your task at hand and complete 8 pull-ups before returning to work..should be good!
Tuesday: Tuesday is an EMOM style workout with some front rack holds and some calories on the rower. The key here will be picking away you can maintain for the front rack holds and really pushing hard on the rower as you will be given a minute rest after each round.
Wednesday: Weightlifting Wednesday! This will be a short two position snatch complex consisting of one hang snatch and one snatch from the floor. The goal here is to go unbroken through both reps without dropping the bar. Base the loading
on proper technique and footwork. If it feels good go for it!
Thursday: We'll be doing our CFS version of the 2018 CrossFit Games event: "Chaos" today in class! This is a chipper style workout that should keep you moving pretty fast. Try to pace things too much and trust your fitness to carry you to the end. There will be a few challenging movements in this one like a single arm overhead dumbbell squat and a high box jump.
Friday: Great workout to close out the week! This one has some good core work and lots of barbell cycling so get ready! Snatches and clean and jerks will be in this one and at the end of the day you will have a cumulated a "Grace" as well as an "Isabel." Definitely a fun one that you don't want to miss!
Saturday: Saturday is still TBD but you can rest assured it's going to be a great one as always!
      Let's keep things rolling in the gym this week and close out the month of August on a high note! Be sure to check your attendance and get in here often this week to seal your spot in the committed for August as well! That's it, time to pay The Man!