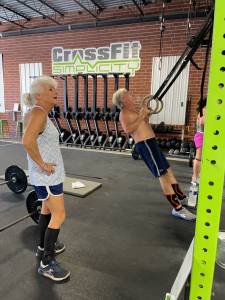 Hey guys,
      It's that time again! Time to crack open the CrossFit Simplicity Weekly Rundown on this beautiful Sunday in Burlington North Carolina. Below you will find all you need to know about what's happening at the gym and what our training is going to be looking like this week. You guys have been crushing this strength cycle and we are going to be beginning week six on Monday! Week six will be 3×3's at 85%. Hang in there because you all have been putting in a tremendous amount of work and the end is in sight! Speaking of the end, we are wrapping up another month here at CFS and we are excited to move into September with you guys and enjoy what will hopefully be a little cooler climate around here. We also have some fun events coming up in September so be sure to check out the announcements below before we dive into our Indiana Jones themed week!
Labor Day Schedule: We will have normal hours this weekend but we will only have an 8:30 AM class on Labor Day. If something changes we will send out an email promptly!
Fall Back Into Fitness: Our next community event will be September 25th. This will be functioning as a community event for you all and also a Bring a Friend Day! We are calling it, "Fall Back Into Fitness" and we hope you all can make it! DJ-LA will be in the house and we hope you and your friends will stick around after class for a little cookout celebration of our community here at the gym! Look for more details in the near future!
Coaching: As we mentioned in last week's Rundown we have a few coaching changes taking place at the gym. All good things so don't worry! Last week we congratulated Maryann on her promotion at work and this week we want to congratulate Coach Felicia because she will be starting her MBA program through Elon. You will still be seeing Coach Felicia at the whiteboard leading classes but perhaps a little less than normal for a while. As you may have noticed we also have coach Holt Alcon here in the gym with us taking care of some morning classes. Holt has been with us since we opened the gym on and off but now he's back and we are excited to have him in the gym! We also want to introduce you guys to Erin Moore! Many of you guys know Erin from class but she will be shadowing and helping us out with some classes as she prepares to get her level one certification in October!
Monday: Kicking off week six of our strength cycle with 3×3 floor press! You're going to have a longer interval this week (2 1/2 minutes) So we want to weight to be a little more challenging. Three sets of three is only nine total reps so go for it! After this we will be hitting, "Indiana Jones." This is going to be a cool gymnastics piece with ascending reps of toes to bar, power cleans, and handstand push-ups! The stimulus today is going to be moderate intensity across the work out. The ascending rip scheme means that you guys should be conservative and how you approach the earlier rounds so that you have enough in the tank to still complete the bigger sets in manageable and efficient amounts. This one is definitely going to get a little grippy with the toes to bar and power cleans and is also going to fatigue the shoulders so break things up early if needed. Remember to focus on and emphasize the kip swing and the lat pulldown motion in your toes to bar and make sure that your power clean weight is around 50% of your one rep max. The first two sets of this workout are going to really fly by so remember once again not to come out too hot and think it gets easier. Instead save a little in the tank because the round of 15 is where it gets real!
Tuesday: Next up this week we have back squats! Again we will be doing three sets of three at 85% every 2 1/2 minutes. This is going to be heavy so remember to focus on keeping a good position in the bottom and really driving through the floor as you stand. Feel free to take a little extra rest here today if you need it. When we finish we are going to be getting set up for "Raiders of the lost Ark." This workout has a classic Mayhem layout where we will be doing four sets, one set every five minutes, of calories on the bike, alternating dumbbell snatches, and burpee box jump overs. The idea is that you'll have five minutes to complete a set and any remaining time is yours to rest. This means the stimulus for this workout is going to be moderate to high intensity. We want you guys to aim for finishing a round in under 2 1/2 minutes and we would love to see some similar times across rounds or maybe even slightly faster each round as you figure out how to pace and transition more smoothly through the movements. This means don't blow it out on set one! Reps are relatively low on this workout so make sure you're completing everything Unbroken and keeping a steady pace! Good stuff!
Wednesday: Hump day shoulder presses! And you guessed it, it's going to be the exact same layout as our back squats the previous day. Again 85% is heavy so if you need a little extra rest feel free to take it. Also make sure you are keeping a strong tight midline and not arching your back too much as you press the bar today. We're going to keep the bars out as we transition to "The Temple of DOOM!" Scary! (Also a great movie!) this is going to be a straight chipper of calories on the rower, power snatches, and then finishing things off with another set of calories on the rower. Not to give things away too much but you'll have 30 reps of each. Make sure you found a paste that you can maintain throughout this work out only push this pace when reaching the final row. This workout is all about the power snatch. The row is really just there to annoy you and get the heart rate primed. Your power snatch weight should be around 65% of your one rep max. We want fast singles across reps which will help you stay consistent in your timing. Remember to be efficient in your power snatch and don't just rip the bar up and overhead or you will tire out too soon!
Thursday: Deadlift day! Like the back squat, this is one of our tougher days because the weights will be heavy. The rep scheme will be the same so no surprise there. Make sure you are braced and grounded and get a good strong pull from the floor. Also consider using a mixed grip today. Up next we'll have, "Snakes. Why Did It Have To Be Snakes?" Classic Indiana Jones line and one that will make sense to all those true fans out there. Like most Thursdays lately this will be a partner workout! Also like last Thursday partners will trade of full rounds with each other. This will be an 18 minute AMRAP where each round consists of 30 double unders, 15 GHD's, 15 wallballs, 15 GHD's, and then 30 double unders again. Rep amounts for each movement should allow you guys to keep near constant pacing across rounds until you have your wrist.. Make sure you are really attacking this work out when it's your time to shine. Don't let one person go hard while the other just coasts through and misses the stimulus. We are looking for unbroken sets on everything today so focus on being smooth and consistent. Have fun with this one and encourage your partner when it's their time to work!
Friday: "The Last Crusade" sounds like a pretty fitting name for this 5K today. That's right, we will be running a 5K today and we know some of you guys love it and some of you guys hate it…But all of you guys should show up to do it! This is just a straight run so be sure to wear your running shoes today and bring some music with you if you'd like it for your run. We will also have some scaled options for you guys today if a 5K is a little out of reach right now. Either way, running is a part of fitness so it's something that we don't want to avoid altogether. Even if it's not your favorite just embrace the workout today and get it done!
Saturday: Saturdays at Simplicity are for partner workouts! We have a cool two-part workout today called, "The Kingdom of the Crystal Skull!" During the first part of the workout you and your partner will work through sets of calories on the rower and light overhead squats. During the second part of the workout, after a five minute rest, you guys will work through sets of calories on the rower and light front squats. This will be a fun piece where you and your partner should really work together and push the pace! Not a ton of strategy on this one except to stay moving and get after it when it's your time to go! Easy day!
      I'd love to stay but there's bills to pay, so I just don't have the time…(first person who texts me or emails me that reference get a free FitAid Monday!) All jokes aside, that's all we've got for you guys today. It's shaping up to be another amazing week here at the gym and a great way to wrap up August and bring in September. Everyone has really been hitting the gym consistently and it's showing as we see you guys getting stronger in the strength cycle. Remember to try to get in here as much as possible and stay diligent so that we can obtain these goals we are setting. I hope everyone had an amazing weekend and is getting plenty of rest and relaxation so that we can hit it hard on Monday. See you all in class!
~Daniel