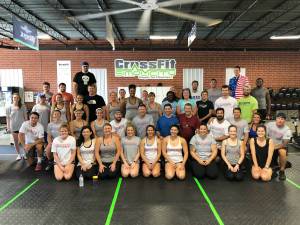 Hey guys,
We are solid into July and things have been looking really good! One cool thing you all may be noticing about this month is an increase in Hero WODs! We'll be hitting quite a few over the next couple weeks so be on the lookout! These can be tough!
Monday: Speaking of Hero WODs…here we go! Kicking off the week with "Glen" on Monday. This is a bit of a long one so pacing is key. Make sure not to come out of the gate too hot on this one and if you're looking for a fast time really push the pace on the mile runs!
Tuesday: We have a great day planned here! Going to mix things up on the weightlifting by making it EMOM style. This is a great way to build to a heavy single for the day. After this we'll break things down for a short, fast, three round conditioning piece. Power cleans are the theme of the day.
Wednesday: Solid aerobic piece for mid-week! This one will be E2MOM with running AND rowing. After the workout we will hit a little shoulder accessory work to round out the day.
Thursday: Deadlift day! Going to a heavy single on this one with emphasis on perfect posture and form! Keep that core tight!
Friday: Daniel (on the phone): "DJ Khaled, we've already had one Hero WOD this week..what do you think?" DJ Khaled: "Another one!" Ok…you heard the man! "Nick" is set for Friday!
Saturday: Daniel (on the phone): "DJ Khaled, it's me again..had a quick question…" DJ Khaled: "ANOTHER ONE!"
Daniel: "Ok, ok…I guess they can handle it.."  When Khaled speaks you listen…and he says the key is more Hero WODs. "Hall" Saturday!
One week: Three Hero WODs. Enjoy!
Best,
~Daniel